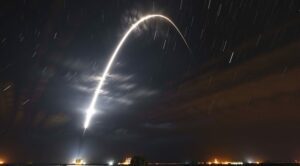 Edinburgh, 24 September 2021. – The Turkish government announced launching its first domestically built communications satellite on a SpaceX Falcon 9 rocket.
The launch of Turksat 6A is scheduled for the first quarter of 2023. The Ministry of Transport and Infrastructure did not disclose further details of the contract.
Turksat 6A is being built by the TÜBİTAK Space Technologies Research Institute. Operating from 42 degrees east, it will comprise a payload of Ku- and X-band transponders. Assembly of the satellite will be completed before the end of the year, with environmental testing done by the end of 2022. Turksat 6A will mark the third Turksat satellite launched by SpaceX. Turksat 5A was launched in January while Turksat 5B is scheduled for the end of 2021. Both satellites were built by Airbus Defence and Space.
Meanwhile SpaceX also won the launch of Arcturus, a satellite built and operated by Astranis on behalf of Pacific Dataport Inc. This will be the Falcon Heavy rocket's first commercial satellite launch in a direct-inject mission to GEO. Part of Arcturus' job will be to provide internet services across Alaska. The launch is scheduled for spring 2022.