by Luisa Low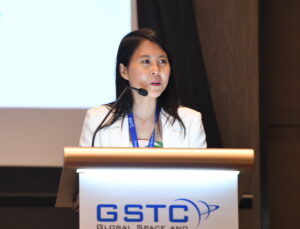 After a much-deserved summer break, during this week's Space Café, SpaceWatch.Global publisher, Torsten Kriening caught up with Chief Executive of Singapore Space & Technology and "this century's role model for space", Lynette Tan to talk about Singapore's role in space and her company's commercial vision.
With an international career spanning the last three decades, Lynette has worked to increase trade viability through organisations like the Singapore Economic Development Board and GlaxoSmithKline. Before pivoting to the space sector, she studied chemical engineering degrees at Illinois and Stanford universities, and in 2018 conducted international space training at the Korean Aerospace Research Institute.
In her current role at Singapore Space and Technology Limited, a role which she was appointed to in 2020 after having successfully served as Executive Director and Director, Lynette has steered the pioneering space organisation towards regional space developments and is spearheading major trade and business-focused initiatives including start-up accelerators.
Lynette is active in promoting science, technology, engineering and mathematics, and has been recognised as a trailblazer promoting tech and STEM in the 2020 Singapore 100 Women in Tech.
This week, she and Torsten discuss her optimism, enthusiasm and passion for the sector and how Singapore, a country smaller than 800 square kilometres and with a population of 5 million people, is championing its own space fortunes.
How a country of 5 million is proving its space worth – is Singapore South-East Asia's Switzerland?
It takes less than 55 minutes to travel ear-to-ear across the tiny nation, but Singapore is proving you're never too small to prove your worth in space. So how is it making its mark?
Firstly, it's important to consider Singapore's strategic, long-standing position as both an economic and innovation powerhouse.
Considered one of the most "open" and least corrupt trading powers, Singapore is one of the most business-friendly places on Earth that maintains its position through the neutral facilitation of business.
From humble beginnings, it has built itself from the ground up through smart policy, becoming a powerful trade hub that facilitates both East and West markets.
"Singapore is a relatively cosmopolitan, international city. Therefore, when we look at the space ecosystem, we look at it from an Asia-Pacific view."

"We are seeing many start-ups and founders coming to set up operations in this part of the world – in Singapore – to look into the Asian and South-East Asian market."
As is perhaps fitting for a business-centric nation, Singapore does not have a dedicated government space agency but over the past 5 years, it has launched 15-16 satellites into space.
How Singapore Space & Technology Ltd (SSTL) is Singapore's space champion
Lynette's company, which is a "neutral", non-government organisation, focuses on three key areas with the overarching goal of promoting and accelerating Singapore's space sector and its players.
Within the Asia-Pacific region, the company connects startups with venture capitalists, angel investors and institutional funds; accelerates technology adoption in the region and cultivates the future talent pipeline which involves working with students.
"We do see a lot of activities happening in Asia-Pacific, for example in 2018 Australia launched its space agency."

"People are eager to consume space technologies. SSTL harnesses and advances space technologies to benefit people and make our lives better. We do it to benefit companies, organisations – we do it to benefit the planet."
Being an independent player, they are also in the unique, unbiased position that allows them to duck red tape and connect various organisations, government organisations and space agencies within the Asia-Pacific ecosystem.
Before COVID hit, each spring they would run the Global Space and Technology, an international ideas platform that connected East and West.
Power-broking, old-fashioned networking and deal-making: Singapore's long-held niche is its power
While the world is witnessing the launch and progression of myriad high-profile space missions, Singapore is carving out a specific niche for itself using the very skills it has perfected over the last century.
What it lacks in space heritage, it makes up for with a deep understanding of industry power broking, capital raising, deal-making and old fashioned networking.
While a young space player, these skills have allowed Singapore to jump straight into the sector's commercial side. SSTL alone is accelerating over 30 startups – a remarkable feat for a country with no manned missions or human space flight.
"[Singapore] is a place to try your best to make money and use your technology to benefit people, benefit organisations, your customers, government and NGO's.

"It's is a place to promote social responsibility, leverage space technologies. It's a hub for commercialising space technologies and deep technologies. I think that part is really exciting."

"Where SSTL comes in is trying to connect and put the different pieces together."
And with that, it's no surprise that innovation knows no borders in Singapore.
To listen to Lynette Tan's insights into the space industry, you can watch the full program here:
Space Café is broadcast live Tuesday at 4 pm CEST. To subscribe and get the latest on the space industry from world-leading experts visit – click here.
Luisa Low is a freelance journalist and media adviser from Sydney, Australia. She currently manages Media and Public Relations for the University of Sydney's Faculty of Engineering.