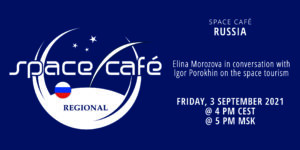 This Space Café Russia will be hosted by Elina Morozova, Executive Director of the Intersputnik International Organization of Space Communications and friend of SpaceWatch.Global , in conversation with Igor Porokhin, a Russian attorney-at-law and partner of legal firm InSpace Consulting known for having provided legal support for contracts for flights to the International Space Station of astronauts from NASA, ESA, Brazil, South Korea, Malaysia, as well as space tourists on board the Russian manned Soyuz spacecraft.
For over 25 years, Igor Porokhin has been involved in major international space and telecommunications projects and industry dispute resolution. His track record includes working on a contract with Dennis Tito, the first-ever space tourist. What has changed since then? Why is space tourism again in the focus of attention of the widest audience, from large investors to academia? Who can rightfully be called space tourists and what makes them different from astronauts? We will put all these questions to Mr. Porokhin who knows the answers.
Another unique experience for Igor Porokhin to share is his work as a member of the committee of government experts under the auspices of the International Institute for the Unification of Private Law (UNIDROIT) on the drafting of the Protocol on Space Assets to the Convention on International Interests in Mobile Equipment. Mr. Porokhin also acted as a speaker of the official delegation of the Russian Federation to the Berlin Diplomatic Conference on the adoption of this protocol in 2012. We will talk about why the Berlin Protocol has not gained the necessary number of ratifications and has not entered into force yet.
The audience will have an opportunity to ask questions in dialogue with Igor Porokhin.
This Space Café Russia will be conducted in the Russian language on 3rd September 2021 at 4 pm CEST / 5 pm MSK to engage more people in the ongoing dialogue on current space law and policy issues.
SpaceWatch.Global is a Switzerland-based digital magazine and portal for those interested in space and the far-reaching impact of the space sector.
Reserve your place today.
——————
Это Спейс Кафе Россия проведет Элина Морозова, исполнительный директор Международной организации космической связи «Интерспутник» и друг SpaceWatch.Global, в беседе с Игорем Порохиным, российским адвокатом и партнером юридической фирмы «ИнСпэйс Консалтинг», известной правовым обеспечением контрактов на полеты на Международную космическую станцию космонавтов НАСА, ЕКА, Бразилии, Южной Кореи, Малайзии, а также космических туристов на борту российского пилотируемого корабля «Союз».
Более 25 лет Игорь Порохин участвует в крупных международных космических и телекоммуникационных проектах и в разрешении отраслевых споров. Его послужной список включает работу над контрактом с Деннисом Тито, первым в истории космическим туристом. Что изменилось с тех пор? Почему космический туризм снова находится в центре внимания самой широкой аудитории – от крупных инвесторов до научных кругов? Кого по праву можно назвать космическими туристами и что их отличает от космонавтов? Мы зададим эти вопросы Игорю Борисовичу, который знает ответы.
Еще одним уникальным опытом, которым поделится Игорь Порохин, является его работа в составе комитета правительственных экспертов под эгидой Международного института по унификации частного права (УНИДРУА) по созданию Протокола по космическим средствам к Конвенции о международных гарантиях в отношении подвижного оборудования. Игорь Борисович также выступал в качестве спикера официальной делегации Российской Федерации в работе Берлинской Дипломатической конференции по принятию этого протокола в 2012 году. Мы поговорим о том, почему Белинский протокол так и не набрал нужное количество ратификаций и еще не вступил в силу.
По ходу беседы с Игорем Порохиным у слушателей будет возможность задать вопросы.
Это Спейс Кафе Россия будет проводиться на русском языке, чтобы вовлечь как можно больше людей в диалог по актуальным проблемам в области космического права и политики.
SpaceWatch.Global является зарегистрированным в Швейцарии онлайн-изданием и интернет-порталом для тех, кто интересуется космосом и масштабным влиянием космической отрасли.
Reserve your place today.