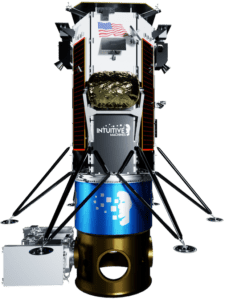 Athens, 11 August 2021. – The lunar cargo startup Intuitive Machines will launch its third Moon mission (IM-3) on a SpaceX Falcon 9 rocket and continues "to build a cislunar economy", the company said.
"By expanding on Intuitive Machines' capability developed through NASA's Commercial Lunar Payload Services (CLPS) initiative, we can offer an annual launch cadence starting with IM-1 and extending beyond our first three missions," Intuitive Machines said. "The reliable cadence allows industry partners and customers the lead times needed to secure funding, develop advanced technologies, and become part of building the cislunar economy."
The IM-3 mission includes a Nova-C class lander to land 130 kg of payloads on the lunar surface. It also has excess capacity on the launch vehicle that accommodates one ton of payloads on a rideshare dispenser ring that deploys into a lunar transfer orbit.
Intuitive Machines' rideshare option puts customers in orbit to proceed to lunar capture, redirect to points elsewhere in high Earth orbit, or depart for destinations in the solar system, the startup said.