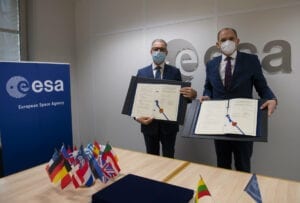 Luxembourg, 3 May 2021. – Lithuania becomes an Associate Member of the European Space Agency (ESA), the agency announced.
The Association Agreement between ESA and the Government of the Republic of Lithuania builds on "the successful results achieved under the previous frameworks of cooperation and will enter into force for a duration of seven years", ESA said.
It will allow direct Lithuanian participation in ESA's optional programmes, "subject to the unanimous approval of respective participating states", the agency said.
Lithuanian delegates and advisers will be entitled to attend meetings of the ESA Council and its subordinate bodies, and to vote on questions relating to the activities and programmes in which Lithuania participates.
ESA says it has now established formal relations with all the states that acceded to the European Union since 2004.
ESA summarized Lithuania's key competences as follows: nanosatellites, propulsion system components, infrared based technologies, Earth observation downstream applications, optoelectronics (in particular laser technologies and photonics), life sciences, physical sciences, and radio frequency systems.