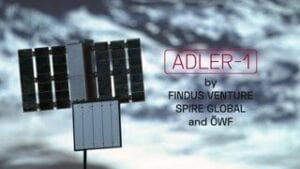 Paris, 21 April 2021. – The Austrian new space investor Findus Venture works with the startup Spire Global to "tackle the growing problem of space debris", the companies announced.
Findus Venture and Spire signed a second partnership agreement to launch the ADLER-2 satellite that aims to "further enhance orbital debris monitoring in low earth orbit, and expand novel atmospheric sensing capabilities to study clouds and aerosols in the atmosphere", the companies said.
The launch of ADLER-2 is planned for the fourth quarter of 2022.
The satellite will carry three customer payloads: an enhanced version of an orbital debris tracking radar developed by Spire on behalf of Findus Venture; an Austrian Particle Impact Detector piezo-sensor developed by the Austrian Space Forum (OeWF), designed to detect debris particle impacts; and the GRASP-Airphoton Multi-Angle Polarimeter (GAPMAP), a wide field-of-view imaging instrument optimised for CubeSat technology and designed for accurate and comprehensive measurements of the microphysical properties of aerosol particles and clouds in the atmosphere.
ADLER-1 is set to launch in December 2021.