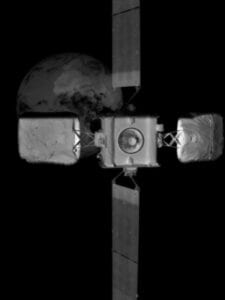 Paris, 14 April 2021. – Northrop Grumman and Intelsat succeeded with an in-orbit docking of a life extension module to one of Intelsat's commercial satellites, the companies said.
Northrop Grumman's wholly-owned subsidiary, SpaceLogistics, successfully completed the docking of the Mission Extension Vehicle-2 to the Intelsat 10-02 commercial communications satellite to deliver life-extension services, Northrop Grumman said.
It is the second time the company has docked a commercial spacecraft in orbit.
Northrop Grumman claims to be "the only provider of flight-proven life extension services for satellites". Its MEV-1 made history when it successfully docked to the Intelsat 901 satellite in February 2020.
Unlike MEV-1, which docked above the GEO orbit before moving IS-901 back into service, MEV-2 docked with IS-10-02 directly in its operational GEO orbital location, Northrop Grumman said.