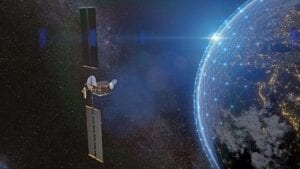 Paris, 14 April 2021. – ArianeGroup will supply ultra-light Sprint antenna reflectors to Airbus for its OneSat satellites, the group said.
The first Sprint reflectors will equip Inmarsat, Optus, Intelsat, and SKY Perfect JSAT satellites produced by Airbus, ArianeGroup said.
ArianeGroup developed the latest generation of ultra-light Sprint antenna reflectors "in just two years", the company says, "to provide an innovative, competitive response to changes in the telecommunications satellite market".
ArianeGroup says it can assemble a Sprint reflector "in only 11 weeks", compared with 24 weeks for its current ULR (Ultra-Light Reflector) technology.