by Blaine Curcio and Jean Deville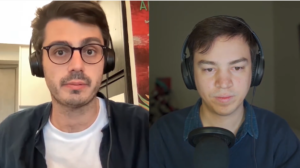 As part of the partnership between SpaceWatch.Global and Orbital Gateway Consulting we have been granted permission to publish selected articles and texts. We are pleased to present "Dongfang Hour China Aerospace News Roundup 5 April – 11 April 2021".
Hello and welcome to another episode of the Dongfang Hour China Aero/Space News Roundup! A special shout-out to our friends at GoTaikonauts!, and at SpaceWatch.Global, both excellent sources of space industry news. In particular, we suggest checking out GoTaikonauts! long-form China reporting, as well as the Space Cafe series from SpaceWatch.Global. Without further ado, the news update from the week of 5 April – 11 April 2021.
1)TCL: A New Tech Player in the Chinese Space Industry?
Jean's Take
This week, we have seen signs hinting that TCL, a Chinese consumer electronics giant, is preparing to invest in the space industry.
Last week, they created a company named Moxing Semiconductors, based in Guangzhou, and which would likely focus on space industry integrated circuits. Looking up information on their incorporation in a corporate database, the scope of business includes "GNSS enhancement systems", "satellite remote sensing systems", "integrated satellite applications tech".
This is alongside things like "IC design & manufacturing."
Now this is big news in the sense that: we know that non-space companies play an increasingly big role in space around the world. In the US, we've seen for example Amazon, Microsoft and Google make significant investments in the industry. In China, this move has been less pronounced due to the fact that the space sector is still strongly regulated, and to a some extent regulations still remain in muddy waters. This makes space a less straightforward investment than, say, the booming Chinese tech industry.
Yet there have definitely been some early movers, with the most visible one (IMO) being Geely, an automobile manufacturer that has diversified into satellite manufacturing and is planning to launch its own satnav/narrowband constellation. Some others who have invested in space include Xiaomi (tech), Gree (home appliances) and Country Garden (real estate). It's fascinating to watch these companies, with often emblematic CEOs (notably Lei Jun of Xiaomi, or Dong Mingzhu of Gree) pioneering the progressive interconnection between space and non-space companies in China.
And Li Dongsheng, CEO of TCL, could possibly be one of them in the near future. The announcement of TCL's new subsidiary, while attracting little attention in Western media, has generated several exciting articles in China such as "Li Dongsheng: From Televisions to Semiconductors, and now Commercial Space?", published on the 3SNews platform. Li Dongsheng has announced multiple times in recent years his vision of turning TCL towards AI, semiconductors, and smart manufacturing. Space tech may very well have been added to the roadmap based on what we've seen this week.
Blaine's Take
What a company, TCL. As someone who spent several very formative years in Guangdong, the Huizhou-based powerhouse holds a place near to my heart. A few points worth noting: I second Jean's point about the intrigue when Chinese tech companies move into the space sector. In addition to regulations being a bit muddy, I feel there's some difference in perception of regulations. In the west, if there is no regulation saying you can't do something, most people would assume you could implicitly do that thing. In China, particularly with industries such as space, until something becomes explicitly allowed, one generally does not do that thing. Definitely a hindrance for tech companies given that it makes any major moves a bit more politically fraught.
Second, it's interesting to see a company like TCL move into an area that is 1) far, far less flashy than rockets, and 2) far, far closer to their core competencies. The commercial space sector may be on a long-term upswing, and if so, it will require a lot of supporting industries and upstream suppliers. Space integrated circuits are not sexy, but they are needed, and TCL is a company that knows how to make integrated circuits if nothing else. So, props to TCL for seemingly seeing a market opportunity (commercial space), and rather than trying to be the 25th launch company to come out of China, to go with their strengths.
Couple of other small points–cool to see another company setting up in Guangzhou, where we have quite the space cluster developing. As we reported in DFHour News Update Episode 3 all the way back in October last year, Guangzhou has attracted the Chinese Academy of Sciences' rocket company, CAS Space, and a "Science City" in Nansha District (still no updates on real estate). More recently, Geely located the HQ of their space operations to Nansha. TCL being HQed in Huizhou makes this pretty sensible, with Huizhou being quite close to Nansha. A final point on the Guangdong space sector from this week, we saw Zero Gravity Labs recruiting a number of positions this week, including several positions in….Shaoguan, a slightly random city in Northern Guangdong.
One last point on TCL–apparently the company purchased the naming rights to Grauman's Chinese Theatre in 2013 for US$5M. For those unfamiliar, the now-named TCL Chinese Theatre is a landmark of the Los Angeles film industry, located along the Hollywood Walk of Fame, and featured on, among other things, at least one episode of the Simpsons, where they parodied the former "Mann's Chinese Theatre" as "Chinese Man's Theatre". Having last been to Hollywood Walk of Fame in September 2011, I distinctly recall admiring the still-named Grauman's Chinese Theatre after several adult beverages, immediately before taking a photo with a guy dressed as Chewbacca and his friend dressed as Han Solo. Welcome to Hollywood.
And one last point on tech companies in China getting into space–I would mention that the very first company to do this was Baidu, when their CEO Robin Li started to lobby for a more open space sector way back in 2014. We haven't seen anything substantial from Baidu since then, but we have recently seen the company expand its efforts into autonomous vehicles and other frontier tech
2) A Few More Details Revealed on China's Commercial Launch Site
Blaine's Take
This week, Zhejiang Province released its 14th Five-Year Plan. Included in the plan was a call to build a commercial spaceport, in Xiangshan, Ningbo, with a total investment of RMB 20B, of which RMB 12B would be invested during the 2021-2025 period. A few things to unpack:
First, it is still not 100% clear that the Ningbo Commercial Spaceport is the commercial spaceport referred to in China's national Five-Year Plan, but the inclusion in the Zhejiang Province FYP seems to make this more likely. The scale of the prospective launch site is impressive, with plans for up to 100 launches per year and economic activity of RMB 100B. The launch site would be 67 sq km, of which 35 would be devoted to launch, and 32 would be devoted to an industrial area supporting the launch site.
Second, the location of Ningbo, with a massive port (the world's 4th busiest by container traffic in 2019), and a long coastline, are beneficial for rocket launches. The port could conceivably make shipping rockets and related equipment to Ningbo via sea simpler, and the seaside location allows for rockets to be launched over the ocean as opposed to over land.
Finally, despite being a commercial launch site, some of the usual traditional space suspects have been involved. This included an agreement from December last year between CASC and Ningbo to develop a commercial launch site, and discussion by CASIC Vice Chairman Dou Xiaoyu at the NPC earlier this year about the huge increase in launch requirements expected in China. The involvement of CASIC is particularly interesting, because the company has a lot more incentive to see the space sector in China commercialize.
Jean's Take
The involvement of CASIC would make also sense considering that we're seeing signs of Expace wanting to develop a series of liquid-fueled rockets, the Kuaizhou-2. Such rockets would need full-fledged launch infrastructure instead of just a transporter erector launcher (TEL) type of vehicle.
More generally on Ningbo, this is another sign of Chinese commercial launch rapidly expanding. It has materialized through the fast-pace development of many Chinese commercial launch startups (discussed frequently on Dongfang Hour), but also the development of new commercial launch sites. Beyond Ningbo, we know that there is also a commercial launchpad dedicated to methalox rockets under construction at China's oldest launch site: Jiuquan. And ultimately it seems that Wenchang, China's 4th state-managed launch site, is moving towards more commercialization, and this could include a commercial launch pad (we saw sentences such as "打造国际一流、市场化运营的航天发射场" come from high-level Hainan Party officials such as Li Dongyu in April).
3) New (Pre-A) round of funding of 100M RMB from Aerospace Propulsion
Jean's Take
Chinese commercial startup Aerospace Propulsion (宇航推进) raised 100 million RMB, (approx. 15 million USD) in a new round a funding, with the lead (and unique?) investor being Weifang Hangdong Aerospace Investment Corporation (潍坊航动空天投资). This piece of news is noteworthy for several reasons:
First, some quick background on the engine manufacturer Aerospace Propulsion: on paper, it may look like "yet just another Chinese rocket propulsion startup". And to some extent, it is, with many similarities to other companies: yes it is founded by a former lead engineer from CASC. And yes, it is designing its own methalox engines (just like Landspace, iSpace, JZYJ, …). But let's discuss the company a little more in-depth and add some nuance/differences.
The company was founded in August 2018. Late 2018 can be considered as rather a late stage, with the bulk of Chinese launch companies having been founded between 2015 and 2017. Aerospace Propulsion manufactures the Canglong-1 and Canglong-2 methalox engines, providing respectively 60 tons and 10 tons of thrust. Both engines are under development, and are optimized for a rocket first and second stages. A Canglong-3 for the upper stage is also on the roadmap. It also designs the Tiansun (Falcon) series for spacecraft in-orbit maneuvers and attitude control. We've seen cool footage on several engine tests on their social media.
Now to the investors, Aerospace Propulsion is to a large extent still owned by its founders (up to 52%), and also has a mix of  3 public-private investors which have a 5-20% minority stake: an HIT-affiliated venture capital fund (哈工创投), a Beijing-based pPE/VC fund called Pagoda Innovation (高达国际), and the latest investor Weifang Hangdong Aerospace. The latter is interesting notably because it can be traced back to a municipality-level fund of the city of Weifang (潍坊高新区国有资本运营管理有限公司, Weifang High Tech Zone State Owned Capital Operation Management Co.).
Weifang is a coastal city in the eastern part of Shandong province, not too far from Qingdao and Yantai. Worth noting, Weifang Hangdong Aerospace mentioned that Weifang is the city of origin of a large diesel engine SoE called Weichai, which serves the markets like buses, trucks, heavy duty machinery, marine, power generation etc.; and that "aerospace" was the only missing element of Weifang's "power" industry.
This could mean two things:
First, we may be expecting Aerospace Propulsion to move some company activities into the area. This is a mechanism we have seen municipal funds use many times to attract high tech companies. This wouldn't necessarily be a bad thing for Aerospace Propulsion: Weifang is in eastern Shandong, an area where we've seen some space industry build up in recent years.
Second point: Aerospace Propulsion seems to be the only investment of Weifang Hangdong Aerospace investment company. And the company was founded just 3 months ago, in December 2020. Therefore I wouldn't be surprised if the company invested further into aerospace and space companies in the near future.
Blaine's Take
Definitely interesting to see Aerospace Propulsion getting some funding from Weifang. Bit more to unpack from my side: first, the name Weifang Hangdong Aerospace Investment. It's always slightly tricky to directly translate the name of such companies, but 航动 basically means "space propulsion". Could be an indication of their investment focus. Separately, to Jean's earlier point, yes, Hangdong was founded in late 2020, and this is their first investment. Concerning may be too strong of a word, but it could be seen as something of a "red flag" that this is not a unique development.
For example, when Qiansheng Exploration raised its latest round of funding earlier this year, the funding came from a fund in Fuzhou, Jiangxi (新开源基金) that had made 1 investment prior to Qiansheng. The same has occurred with a handful of other funding rounds for Chinese new space companies. Over the course of the podcast, we have consistently compared the US and China in the way that the government supports new space companies, and here is where the red flag comes in. As discussed, in the US, the primary means of government support is through government vehicles such as NASA or the DoD buying services from space companies. That is to say, it's end users knowing what they need, and paying companies that can do it.
In China, the support is much less centralized, and much more indirect. CASC and the CNSA do not, strictly speaking, have any incentive to help commercial space companies. Regional governments do, however, have a huge incentive to promote economic development, especially in hi-tech sectors. Without wanting to sell the governments of Fuzhou, Jiangxi, or Weifang, Shandong short, I would argue that probably, the rocket scientists at NASA, or the milsatcom experts at the US DoD, have a better understanding of the sector than does a VC from Weifang that was founded 16 weeks ago. Does this mean that Chinese commercial space is doomed to fail? No. Does it mean that Chinese commercial space is highly likely to develop in a less efficient, less market-driven way? Probably yes.
Another indication of this is the fact that we now seem to have something like 7 launch clusters in China–Beijing (especially in the South), Tianjin (Tianbing Aerospace, CASC), Huzhou (Landspace, Rocket Group), Wuhan (Expace), Jianyang (Galactic Energy, others), Ningbo (commercial launch site), Guangzhou (CAS Space), Xi'an (the home of Chinese aerospace power), and Shandong. Will we likely get one world-class launch company to emerge from the ether? Yes. Will we likely have a bunch of underutilized rocket industrial bases as a result? Yes.
This has been another episode of the Dongfang Hour China Aero/Space News Roundup. If you've made it this far, we thank you for your kind attention, and look forward to seeing you next time! Until then, don't forget to follow us on YouTube, Twitter, or LinkedIn, or your local podcast source. 
Blaine Curcio has spent the past 10 years at the intersection of China and the space sector. Blaine has spent most of the past decade in China, including Hong Kong, Shenzhen, and Beijing, working as a consultant and analyst covering the space/satcom sector for companies including Euroconsult and Orbital Gateway Consulting. When not talking about China space, Blaine can be found reading about economics/finance, exploring cities, and taking photos.
Jean Deville is a graduate from ISAE, where he studied aerospace engineering and specialized in fluid dynamics. A long-time aerospace enthusiast and China watcher, Jean was previously based in Toulouse and Shenzhen, and is currently working in the aviation industry between Paris and Shanghai. He also writes on a regular basis in the China Aerospace Blog. Hobbies include hiking, astrophotography, plane spotting, as well as a soft spot for Hakka food and (some) Ningxia wines.