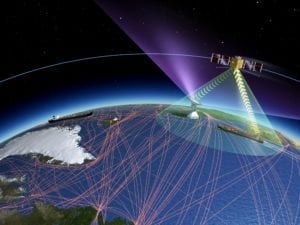 Luxembourg, 1 April 2021. – The microsatellite ESAIL is able to capture more than two million messages from 70,000 different ships on a single day, representing 15% to 20% better detection rate than previous satellites, the European Space Agency (ESA) said.
ESAIL tracks ships worldwide by detecting messages that ships radio-broadcast with their automatic identification systems (AIS), enabling them to be identified even when far out to sea, at long distances from coastal-based monitoring stations, ESA said.
The record data were validated by ESAIL's Canadian operator exactEarth which is integrating ESAIL into its satellite fleet. The satellite was built by the Luxembourgish manufacturer and system integrator LuxSpace, part of German OHB group, with support from ESA and Luxembourg's space agency LSA.
"ESAIL shows how ESA and European space agencies are able to forge unique public-private partnerships and couple their institutional strengths, their research and their engineering know-how with industrial excellence, ambitious business objectives and a clear focus on market priorities", Elodie Viau, Director of Telecommunication and Integrated Applications at ESA, said.