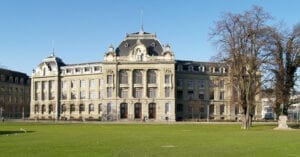 Do we really need to grow into space? How can we do it in a sustainable way? It is high time for an integrated discussion of space matters with planetary concerns. The workshop #PLASUS21 – "Planetary Sustainability 21: Challenges, Opportunities and Necessities" connects space & global sustainability, key space actors and sustainability thinkers and takes place on Thursday 29/4/21 9-17 CET online via Zoom.
Speakers include:
Christian Berg, Club of Rome, on "Planetary Boundaries and Limits to Growth»
Xiao-Shan Yap, EAWAG/University of Utrecht, on "Earth-Space Sustainability»
Thomas Schildknecht, University of Bern, on "Environmental challenges: Space Debris; the Brightness of Megaconstellations"
NN, on "How to address the space debris challenge"
Gaetan Petit, Space4Impact, on "Space can do more for Earth"
Dovilé Matuleviciute, Luxembourg Space Agency, on "Space Resources & Innovation"
Traugott Jähnichen, University of Bochum, on "Space Activity & Social Sustainability"
Stefaan De Mey, European Space Agency, on "Forward to the Moon: Europe's exploration program Terrae Novae and Artemis"
Emmanuelle David, EPFL, on "Sustainable Space Logistics"
Oliver Ullrich, University of Zurich, on "Biological Challenges in Space"
Andreas Losch, University of Bern/University of Pretoria, with André Galli, University of Bern and Xiao-Shan Yap, EAWAG on "Planetary Sustainability: the concept"
Have a look at https://saveourplanet.info/2021/02/01/plasus21/ for an up to date schedule. Registration to the workshop will be free of charge.
The first workshop partner is the University of Zurich's Space Hub, welcoming further sponsors, big and small.
You can either support through crowdfunding still running until today 2 pm CET https://wemakeit.com/projects/planetary-sustainability-21 (contributions are tax-deductible in Switzerland) or contact Andreas Losch directly.
Happy to announce SpaceWatch.Global as our media partner!
Think big.
Think connected.
Think planetary.
Act Sustainably.