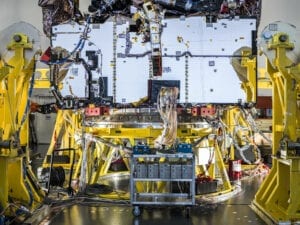 Luxembourg, 3 March 2021. – This will be a real SpaceWatcher: NASA completed the final functional tests for the launch of the giant James Webb space telescope in October.
James Webb completed its final functional performance tests at Northrop Grumman in Redondo Beach, California, NASA said.
"Testing teams successfully completed two important milestones that confirmed the observatory's internal electronics are all functioning as intended, and that the spacecraft and its four scientific instruments can send and receive data properly through the same network they will use in space."
These tests are known as the comprehensive systems test, which took place at Northrop Grumman, and the ground segment test, which took place in collaboration with the Space Telescope Science Institute in Baltimore, NASA said.
The James Webb Space Telescope will be the world's premier space science observatory when it launches in 2021, the U.S. agency says. "Webb will solve mysteries in our solar system, look beyond to distant worlds around other stars, and probe the mysterious structures and origins of our universe and our place in it."
Webb is an international program led by NASA with its partners, ESA (European Space Agency) and the Canadian Space Agency.