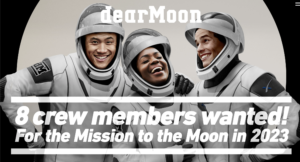 Luxembourg, 3 March 2020. – Wanna fly to the Moon with him? The Japanese billionaire Yusaku Maezawa – also known as "MZ" – is inviting eight crew members for a private Moon mission in 2023.
Maezawa had purchased the seats on a SpaceX Starship flight back in 2018 and originally wanted to invite artists from around the world to fly with him. The plan has "evolved" since, he said, and is now seeking to fill the seats with eight people from across the world, Maezawa said on Twitter and the website of his "dearMoon PROJECT".
The pre-registering for the adventure is open until 14 March, says the website, final interviews and medical checkups will take place in late May.
Maezawa calls his dearMoon project "the first civilian mission to the Moon". Elon Musk, SpaceX owner and chief, says in a video on Maezawa's website, that the dearMoon mission is the "first private or commercial spaceflight" with humans beyond Earth orbit. "We're going to go past the Moon", he says, "further than any human has ever gone from planet Earth".