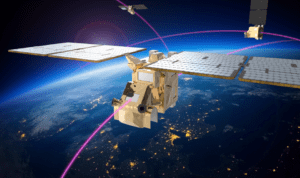 Paris, 10 March 2021. – First step: OHB Sweden will build the prototype for a potential Arctic Weather Satellite constellation, the European Space Agency (ESA) said.
The Arctic Weather Satellite constellation "would supply an almost constant stream of temperature and humidity data from every location on Earth – allowing, for the first time, for very short-range weather forecasting, or 'nowcasting', in the Arctic," ESA said. The mission would also help to improve weather forecasts around the world.
The idea of the entire mission – which is not yet decided – is to provide arctic weather data that have been lacking so far for short-term forecasts, ESA said.
Europe's Meteosat geostationary satellites cannot be used for Arctic weather forecasting, while the MetOp satellites need up to 24 hours to achieve global coverage.
 The contract is worth over €32 million, the agency said, and was signed by Toni Tolker-Nielsen, ESA's Acting Director of Earth Observation Programmes, and Benoit Mathieu, Managing Director of OHB Sweden.