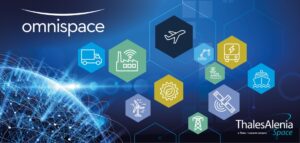 Paris, 24 March 2021. – Lockheed Martin partners with Omnispace to develop 5G capabilities from space, the company said.
"The proposed global 5G standards-based non-terrestrial network (NTN) would offer commercial, enterprise and government devices ubiquitous communications worldwide", Lockheed Martin said. "This type of network has the potential to redefine mobile communications, benefiting users requiring true mobility, regardless of environment or location."
Omnispace wants to build a global network that combines the reach of a non-geostationary orbit satellite constellation with the capacity of the world's leading mobile wireless carrier networks.
This 5G NTN will leverage the company's priority 2 GHz S-band spectrum rights and employ 3GPP standards to enable direct-to-device connectivity and interoperability, the company says.
"In collaboration with Lockheed Martin, this hybrid 5G network would provide the coverage and capacity to support essential applications requiring seamless, reliable, global communications."
Last April, Omnispace selected Thales Alenia Space to develop the initial component of its satellite-based Internet of Things (IoT) infrastructure.
Lockheed Martin did not specify how exactly it wants to contribute to Omnispace's 5G ambitions.