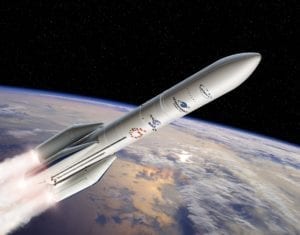 Paris, 17 March 2021. – Longing for the Moon: ArianeGroup undertakes two studies to support potential European Moon missions, the company said.
ArianeGroup will bring its propulsion architect expertise to the Cis-Lunar Transfer Vehicle (CLTV) and the European Large Logistics Lander (EL3) missions, the company said, supporting Airbus Defence and Space and laying the ground for a preparation at the next European Space Agency (ESA) Ministerial Council in 2022. If the proposed concept is approved, the next phase of the Moon mission could start in early 2023, ArianeGroup said.
EL3 is developed to provide Europe with the capability to transport up to 1.7 tons of cargo, propellant or equipment to the lunar surface. The lander is scheduled to fly on an Ariane 64 – with four boosters – around 2028 and is supposed to land the supply and provision payload for astronauts close to the American Human Landing System (HLS) landing site.
EL3 complements the U.S. Artemis program; ArianeGroup is already involved in the project, providing propulsion equipment for the European Service Module (ESM) for the Orion spacecraft, ArianeGroup said.
The CLTV's main mission is to re-supply the planned Lunar Gateway Station.