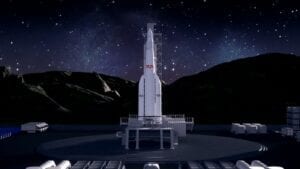 Paris, 22 February 2021. – Turkey plans to invest more than $350 million in a spaceport in Somalia, as part of its $1 billion Moon mission, Space in Africa reported.
"The government plans to build a rocket launch site in Somalia, a key Turkish security partner since 2011, which also hosts Turkey's largest training base in the world," Space in Africa said. "The government's draft calculations suggest establishing and maintaining the spaceport in Somalia would cost more than USD 350 million."
"Somalia isn't a stranger for space enthusiasts," Space in Africa commented. "France also considered using the country to host a spaceport in the 1960s due to its proximity to the equator, making it more suitable for rocket launches."
According to Space in Africa, Serdar Huseyin Yildirim, the Turkish Space Agency president, refused to comment in an interview with Turkish BBC, "citing sensitive talks with the host country, which he wouldn't name".
The Turkish government plans its own Moon mission, with a first landing in 2023 – the country's centennial – and a second in 2028.