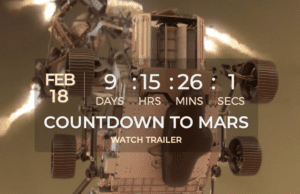 Paris, 9 February 2021. – Who's first: Three Mars missions, from the United Arab Emirates (UAE), China and the U.S., are to reach the Red Planet in the next days.
The UAE's Hope orbiter is set to arrive today, followed by China's Tianwen-1 mission and NASA's Mars rover Perseverance next week.
All three missions will attempt to slow down, enter Mars' orbit and land on the surface. Both, China and the U.S. want to land a rover for the scientific exploration of the planet.
The landing of NASA's Mars 2020 mission and the rover Perseverance is planned for 18 February, the agency says on its website. The mission will also carry the Ingenuity mini-helicopter that will hover over the Red Planet's surface.
In the meantime, four space agencies signed a cooperation agreement to develop another Mars mission to explore the near-surface ice deposits, NASA said.
The international Mars Ice Mapper mission by NASA, the Italian Space Agency (ASI), the Canadian Space Agency (CSA), and the Japan Aerospace Exploration Agency (JAXA) could be ready to launch as early as 2026, it said.
The mission would detect the location, depth, spatial extent, and abundance of near-surface ice deposits, which would enable the science community to interpret a more detailed volatile history of Mars, NASA said.
It could also help the agency to identify potential science objectives for initial human missions to Mars.