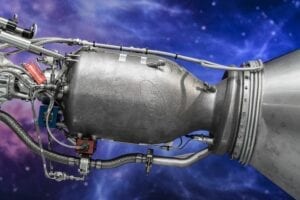 Paris, 25 February 2021. – Printing rockets: The spaceflight specialist Orbex has ordered "the largest industrial 3D printer in Europe", to "rapidly print complex rocket engines in-house", the UK-based space launch company said.
The custom-made, large volume 3D printer will allow Orbex to print more than 35 large-scale rocket engine and main stage turbopump systems annually, as the company scales up its production capabilities for launches, Orbex said.
Under the "multi-million pound deal", the machine manufacturer AMCM will deliver a complete printing suite with post-processing machinery and 'Machine Vision' systems, providing automatic imaging-based inspection of printed components. To accommodate the new machinery, Orbex is expanding its factory floor space at the Space Hub Sutherland, in the UK.
The 3D system will print rocket parts using a blend of metals including titanium and aluminium; the aim is to create a lightweight system designed to withstand the temperature and pressure extremes of spaceflight. Orbex intends to print components such as rocket engines as a single piece, eliminating the weaknesses which can arise from joining and welding, the company claims.
The 3D printed rocket components will be critical parts of Orbex's launch vehicle, a 19-metre microlauncher, designed to deliver small satellites into polar orbits around the Earth.