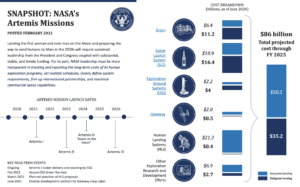 Paris, 11 February 2021. – The Office of Inspector General (OIG) of NASA estimates the total cost of the Artemis mission package through 2025 at a staggering $86 billion, the office said.
$35.2 billion of it are seen as obligated funding while the other $50.5 billion are described as requested funding.
The largest single part of this budget goes to the Space Launch System (SLS), with a total of $27.3 billion of obligated and requested funding.
"Landing the first woman and next man on the Moon and preparing the way to send humans to Mars in the 2030s will require sustained leadership from the President and Congress coupled with substantial, stable, and timely funding," OIG said, adding a critical note: "NASA leadership must be more transparent in tracking and reporting the long-term costs of its human exploration programs, set realistic schedules, clearly define system requirements, firm up international partnerships, and maximize commercial space capabilities."
The budget for the Human Landing System (HLS) – $21.3 billion – is nearly entirely requested only.