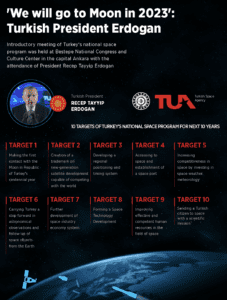 Paris, 11 February 2021. – Turkey wants to go to the Moon in 2023.
"The national space program will carry our country to an upper league in the global space race," President Recep Tayyip Erdogan said according to a report of the Anadolu news agency.
Erdogan presented a program that was prepared and will be carried out by the Turkish Space Agency (TUA), outlining Turkey's ten-year vision and space projects, the news agency reported.
"The primary and most important mission of the program is to make the first contact with the Moon in our republic's centennial year [2023]," Erdogan said.
According to the plan, a rough landing would be made on the Moon with a national and authentic hybrid rocket that will be launched into orbit at the end of 2023 through international cooperation.
"When completing this task, we will be one of the countries that have managed to reach the Moon, and we will gather necessary information for the second stage of the mission," he said.
This second stage – the soft landing on the Moon – is foreseen for 2028. "As we make a soft landing on the Moon, we will be one of the few countries that could conduct scientific activities on it", Erdogan said.
"We will carry the success we have achieved in the defense industry to the space area and ensure the formation of a strong and productive ecosystem," the Turkish president said.