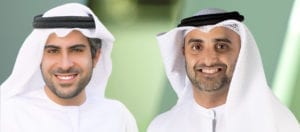 Paris, 11 February 2021. – New CEO, new Board: The CEO of Yahsat, Masood Mahmood, steps down in April and will hand over to Ali Al Hashemi, currently CEO of Thuraya and General Manager of Yahsat Government Solutions, the company announced.
Mahmood will join the Yahsat Board of Directors, Yahsat said, to "work closely with the management team to ensure a seamless transition and to support the Group in furthering its strategic objectives as it embarks on the next stage of growth and development."
Yahsat also announced two more Board appointments: Musabbeh Al Kaabi, CEO of the UAE Investments platform at Mubadala Investment Company PJSC (Mubadala), will assume the position of Chairman of the Board, and Badr Al Olama, Executive Director of the UAE Clusters unit within Mubadala's UAE Investments platform, will join as a Board member, the company said.