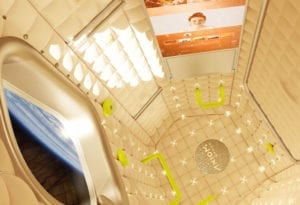 Luxembourg, 17 February 2021. – The Houston-based private spaceflight company Axiom Space raised $130 million in another round of funding led by C5 Capital, the company announced.
Axiom Michael Suffredini told the TV channel CNBC that it is now "well past the point" of becoming a unicorn, "putting Axiom among the top 10 most valuable private U.S. space companies", as CNBC concluded.
A unicorn is a start-up company reaching or exceeding a valuation of $1 billion.
The capital injection gives the company – founded in 2016 and "expanding at just a crazy pace" – the headroom for its private spaceflight missions.
Axiom wants to fly "the first-ever entirely private mission" – dubbed AX-1 – to the International Space Station (ISS) in 2022, with four private astronauts onboard a Crew Dragon spacecraft from SpaceX.
In the next step, Axiom wants to connect a habitable module designed by Philippe Starck to the International Space Station.