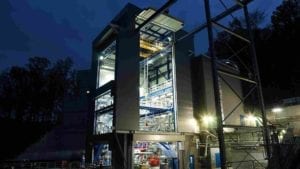 Paris, 1 February 2021. – A horizontal move: The first complete Ariane 6 upper stage was on its way from ArianeGroup in Bremen, Germany, to the German Aerospace Center in Lampoldshausen, Southern Germany, for the first hot-firing tests of its reignitable Vinci engine, the European Space Agency (ESA) said.
"Hot firing tests performed in near-vacuum conditions, mimicking the environment in space, will provide data to prove its readiness for flight," the agency said. The new engine is connected to two separate liquid hydrogen and liquid oxygen tanks and is equipped with all lines, valves and electronic and hydraulic instrumentation and control systems, it added.
A further two Ariane 6 complete upper stages are being integrated by ArianeGroup, ESA said; the agency also prepares for the tests of the combined launch vehicle and the launch base at Europe's Spaceport in French Guiana. Ariane 6's maiden flight is planned for mid next year.
With its two- and four-booster versions, Ariane 62 and Ariane 64, and "thanks to its multiple reignition capability and modular design", the new Ariane 6 vehicle is designed to carry out a broad range of missions to all orbits, ESA says; "this further extends and secures Europe's independent access to space".