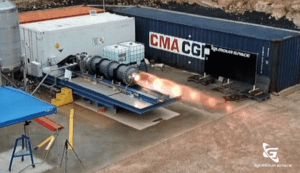 Paris, 20 January 2021. – South Australia prepares its first space mission, SASAT1, the space and defence company Inovor Technologies said yesterday.
Inovor Technologies will design and build the 6-unit Apogee satellite bus that will be launched into orbit in 2022, the company said. SASAT1 will carry payloads to provide Internet of Things (IoT) connectivity and Earth Observation services.
The satellite "will provide valuable intelligence across South Australia's vast landscape which can be used for a range of applications including emergency service and disaster management response, mining, and environmental purposes", the company based in Adelaide, South Australia, said.
In the meantime, the Australian rocket company Gilmour Space successfully tested the main engine of its Eris rocket, "the world's largest single-port hybrid rocket engine", Gilmour Space said.
"We achieved a record 91 kilonewtons (or 9 tonnes-force) of thrust in the initial verification test of our main engine," said Adam Gilmour, CEO and co-founder of Gilmour Space. The Queensland-based company develops a three-stage rocket capable of launching small satellites into low earth orbits.
Gilmour Space foresees the first commercial launch of its Eris rocket for 2022. The launcher will carry payloads from two Australian space companies, Space Machines and Fireball International.