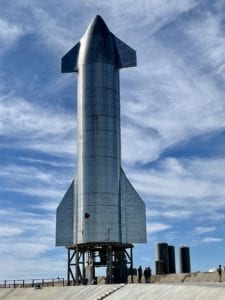 Paris, 20 January 2021. – SpaceX bought two oil rigs to transform them into floating offshore launch pads for its Starship, space and tech media reported.
The two nearly identical deepwater oil rigs – ENSCO8500 and 8501platforms – were acquired from the offshore drilling company Valaris and renamed Phobos and Deimos, like the Mars moons, the reports said.
The oil rigs were seen in the port of Brownsville, Texas, not far from SpaceX's Starship manufacturing and launch facilities in Boca Chica.
"SpaceX is building floating, superheavy-class spaceports for Mars, moon & hypersonic travel around Earth", SpaceX's owner Elon Musk tweeted in June 2020.
Job postings on the company's website seem to indicate that SpaceX initiated the work on floating spaceports; the company is looking for offshore engineers and specialists, some of them specifically for its Starship program.