by Blaine Curcio and Jean Deville
As part of the partnership between SpaceWatch.Global and Orbital Gateway Consulting we have been granted permission to publish selected articles and texts. We are pleased to present "Dongfang Hour China Aerospace News Roundup 11 Jan – 17 Jan 2021".
Hello and welcome to another episode of the Dongfang Hour China Aero/Space News Roundup! A special shout-out to our friends at GoTaikonauts!, and at SpaceWatch.Global, both excellent sources of space industry news. In particular, we suggest checking out GoTaikonauts! long-form China reporting, as well as the Space Cafe series from SpaceWatch.Global. Without further ado, the news update from the week of 11 – 17 January.
iSpace Announces Plans for an IPO on the Star Board
iSpace announced plans to IPO on China's STAR Board, or 科创板. The STAR Board is a Shanghai-based stock market focusing on early-stage, oftentimes higher-risk companies. China's main stock indices in Shanghai and Shenzhen, as well as other indices in Beijing, have rather stringent regulations for metrics such as profitability, which makes it hard for early-stage companies to list.
The Chinese government has progressively become more open to early-stage companies taking more risk with larger amounts of money, and created the STAR Board to allow earlier-stage, oftentimes not profitable, or not revenue-generating companies to list. Other space companies have listed on the STAR Board, including PIEsat.
The press release from the STAR Board News only specifies that CITIC Securities and Tianfeng Securities will advise the listing, and does not offer any additional information. The possible listing will be an interesting indicator of investor sentiment for more early-stage, commercial, capital-intensive space companies, in stark contrast to PIEsat which, while also a commercial space company, is a primarily software company, and thus much less CAPEX.
iSpace is definitely making great progress, I would not be surprised if it's the first CN launch company to IPO on the STAR market. Lately they've been publishing on a regular basis a lot of cool stuff on their progress with their VTVL rocket, the most recent one being the completion of tests of the landing leg struts. Struts are key components for the landing legs which absorb the shock during the landing through an oil/air mechanism. It's the same system you find for example of landing gears of commercial aircraft.
Back to the topic of IPOs, I think it is possible that we see quite soon a first wave of CAPEX-heavy commercial companies reach IPO stage, with a number of them growing in maturity and on the verge of pushing out their products on the market. Beyond launch companies like iSpace, we could also have a number of satellite manufacturing or constellation startups. One such company is Charming Globe, an EO company based in Jilin. As mentioned in an episode of Dongfang Hour in December 2020, its latest round of funding, a whopping 375 million USD, was named by the company "pre-IPO round". Other companies which have managed record levels of funding in 2020 include Landspace, iSpace, Galactic Energy, Galaxy Space, and Commsat.
Several updates on CASC making progress on propulsion technology (link)
CASC's Academy of Aerospace Liquid Propulsion Technology (AALPT), also known as the 6th Academy,completed a 500s hot fire test of the YF-77 heavy thrust hydrolox engines, used notably on the Long March 5. This was the 4th 500s test, in a series to study and improve the reliability of the engine. 500s is about 4 times the length the engine would normally run during an actual launch, before engine cut-off. It is understood that the academy will conduct 4 further such reliability test runs. It is worth noting that this is in the context of a critical year for Long March 5(B), which will launch the 3 modules of the Chinese space station in the next 18-24 months.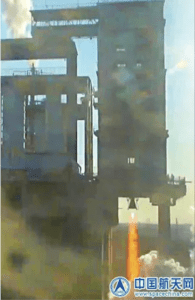 China has also been making progress with its next-generation, a 220t thrust liquid-fueled hydrolox engine. This massive engine would power the second stage of China's future super-heavy rocket, the Long March 9. To put the thrust of the engine into perspective, 220t is in the same range of thrust as the US Aerojet Rocketdyne RS-25 engines, with 4 RS-25s powering the upcoming SLS. Compared to the current Chinese state-of-the-art hydrolox engine, the YF-77 which powers the Long March 5, the new generation Chinese engine has approx. 3 to 4 times the amount of thrust. Also worth noting, the new generation engine will be a staged combustion architecture, which is much more sophisticated and efficient than the open generator cycle of the YF-77.
The largest Chinese solid engine was fired on December 30, in Xi'an. During the 130-second firing test, the engine reached a peak of 260t of thrust. The engine is developed by AASPT (CASC's Academy of Aerospace Solid Propulsion Technology), also known as the 4th Academy, and based in Xi'an. The current engine breaks multiple records: largest thrust, diameter, and ignition time (in China). It is yet unclear where such a massive solid fueled engine will be used, but possibly with one of China's future heavy lift launch vehicles.
China has long had a strong expertise in solid rockets, based on the requirements of many of its Dongfeng missiles. There's been a trend in the last decade to convert solid fueled missiles into launch vehicles, such as Expace's Kuaizhou rockets, and CASC's Long March 11. It's interesting to see that we now have potentially AASPT (who's one of the main players in solid propulsion) designing solid rockets specifically for LVs.
US adds 9 Chinese companies to a blacklist, including COMAC and Air China Group
The US added on Jan. 15 a list of 9 Chinese companies to a DoD blacklist, which lists companies which have ties with the Chinese military. These include Chinese aircraft manufacturer COMAC, which carries China's commercial aircraft projects such as the C919; as well as Air China Group (CNAH), the parent company of Air China, and also, interestingly, one of China's leading consumer tech companies Xiaomi. (Full list available here)
This blacklist is specific to the DoD, and is distinct from the MEU list (Military End User List) of the Department of Commerce Bureau of Industry and Security (BIS). On December 23 2020, the US Dept. of Commerce BIS added a list of 102 companies to the MEU, which included a significant number of Chinese and Russian aerospace companies (among which we have AECC and AVIC entities).
The inclusion in the MEU, as mentioned in the Dongfang Hour Aero/Space News Update, Episode 9, means potential export restrictions and the necessity of obtaining authorizations to export certain components to the blacklisted companies.
The DoD blacklist, however, "merely" bans American individuals and companies from investing in the blacklisted companies, but does not have an impact on export of goods. Consequently, the impact on COMAC and Air China will be limited, as they remain to a very large extent Chinese state-owned companies. This is much less the case for Xiaomi, which is listed in the US and in Hong-Kong (and which stocks plunged by a 2-digit figure after the announcement). US investors will have to divest in listed companies before November 11 2021.
Note: there is a 3rd blacklist, the Department of Commerce BIS "Entity List", which enforces even stricter measures.
China has been facing increasing pressure on its companies from the Trump administration, and the CN MOFCOM released a new set of laws (the "Blocking Statute") on Jan. 9 2021, a series of legal mechanisms to protect Chinese companies from what could be considered "unjustified extraterritorial applications of foreign laws". The details of how this new Blocking Statute will be implemented is yet to be known, but is a definite sign of unprecedented tensions in US-China relations, which will likely persist under the upcoming Biden administration.
The inclusion of Xiaomi sets a somewhat unusual precedent. Unlike COMAC, Huawei, and other companies that have found themselves in the Trump administration's crosshairs, Xiaomi is pretty much a pure-play consumer tech company. It's entirely possible that CEO/Founder Lei Jun has deep ties to high-level CCP leadership, it's also entirely possible that the Chinese government exerts some degree of control over Xiaomi, but at the end of the day, the company is still basically a smartphone and other device manufacturer and investor that has large market share in China and parts of the developing world (India). It will be interesting to see whether China responds to American consumer tech companies (Apple?) in kind.
Also worth pointing out for what it's worth that Xiaomi CEO Lei Jun is pretty involved in Chinese commercial space. A short background of Lei: he is a computer scientist from Wuhan who went to Beijing in the mid-1990s. He got an early leadership role at Kingsoft, the Chinese enterprise software company, and helped take the company public in the late 1990s, making himself and a group of early company leaders very rich.
This group of newly rich tech executives became some of China's earliest venture capitalists, and Lei Jun took the money and founded Xiaomi. He has since invested in a variety of other companies via his VC firm, Shunwei Capital, with the most notable space investment being Galaxy Space. Lei Jun has also been a proponent of economic reform, but has been quite strategic in his framing of this. For example, in mid-2020, Lei wrote an article about the need for reform in China's "New Infrastructures"–a series of digital infrastructures including 5G/IoT/satellite internet and others–in which he talked about the need for greater private sector involvement, but also of the importance of government in supporting the ecosystem. In particular, he mentioned the need to have satellite internet in the 14th Five Year Plan (2021-2025), better coordination of frequencies, and more government funding for the sector.
Digressing, these bans are bad news for Xiaomi and others, but ultimately not so surprising given the current atmosphere between the United States and China.
This has been another episode of the Dongfang Hour China Aero/Space News Roundup. If you've made it this far, we thank you for your kind attention, and look forward to seeing you next time! Until then, don't forget to follow us on YouTube, Twitter, or LinkedIn, or your local podcast source. 
Blaine Curcio has spent the past 10 years at the intersection of China and the space sector. Blaine has spent most of the past decade in China, including Hong Kong, Shenzhen, and Beijing, working as a consultant and analyst covering the space/satcom sector for companies including Euroconsult and Orbital Gateway Consulting. When not talking about China space, Blaine can be found reading about economics/finance, exploring cities, and taking photos.
Jean Deville is a graduate from ISAE, where he studied aerospace engineering and specialized in fluid dynamics. A long-time aerospace enthusiast and China watcher, Jean was previously based in Toulouse and Shenzhen, and is currently working in the aviation industry between Paris and Shanghai. He also writes on a regular basis in the China Aerospace Blog. Hobbies include hiking, astrophotography, plane spotting, as well as a soft spot for Hakka food and (some) Ningxia wines.