Seattle-based Spaceflight Inc. is a pioneer in rideshare services and offers a suite of products and services including payload integration, launch and in-orbit transfer. Spaceflight serves commercial and non-profit organizations as well as institutions and government entities to achieve their mission goals. Spacewatch.Global Editor-in-Chief had the chance to talk with Grant Bonin, senior vice president of business development at Spaceflight, about the business' successes and challenges.
Markus Payer: Is it right to say that rideshare is a nascent market? When did it start?
Grant Bonin: Spaceflight has been around for the better part of a decade now, and we were the first to firm up the concept of rideshare as a service. Prior to that, there were a number of entities who were building and launching small spacecraft, and they'd rely on their own personal networks to see if they could maybe get some launch capacity. Rideshare launch was prohibitively expensive, and the customers had almost no rights whatsoever. Secondary payloads were an afterthought, at that time, and even if a company was able to secure a launch slot for its spacecraft, the launcher might experience some sort of a technical or business setback, and most satellite companies would have absolutely no recourse whatsoever. So, it was not uncommon to see microsatellites and cubesats, as they started to emerge, experiencing delays of several years. You can imagine how difficult it was to plan a viable commercial business around a microsatellite, let alone a microsatellite constellation.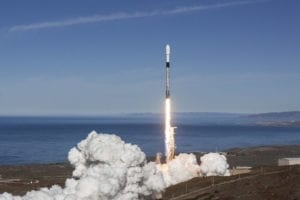 Spaceflight has been successfully launching rideshare payloads for 10 years, but there was a notable breakthrough in 2018 when Spaceflight executed its first, dedicated rideshare mission on SpaceX's Falcon 9. The mission launched 64 unique smallsats from 32 countries and was truly a technical and logistic challenges that the team was able to execute successfully. That record-breaking mission turned the corner in terms of the industry's recognition of the value and utility of rideshare.
What does Spaceflight do differently?
We work with a global network of launch providers, in fact with all of the launch vehicles in operation or approaching operation, to make sure customers have maximum flexibility and get into space exactly when they want, and exactly where they want to go. And that's really to make sure that customers can plan a business around their launch. With a broad portfolio of launch vehicles, we can move a customer from launch to launch, and once they're ready to fly, give them access to space as soon as possible.
What are the elements that make this approach possible?
The two key elements are the diversity of launch options and offering customers a one-stop shop. Spaceflight works with all available launch providers and many that will soon be commercially available. This gives us, and ultimately our clients, access to a variety of launch options. We also offer comprehensive launch services. There is a common misconception that Spaceflight is a broker of launch capacity. Our offerings go far beyond that. We manage everything from integration and licensing to spacecraft shipping and last-mile orbital delivery. Our goal is to support our clients in executing a successful mission and we offer a range of services to ensure that happens.
But this is much more than brokering launch capacity, you are much more than a reseller…
Indeed, a lot of engineering, integration and management effort goes into that. By aggregating our customers, we can defray their costs. It's like splitting a ride with somebody else when you order an Uber. We've seen as recently as last year the enormous benefit for the community, when SpaceX said we're going to start offering dedicated smallsat launches at a cadence of what's going to look like three times per year into 2021 and beyond. It offers a routine and cost-effective launch option that we can leverage for our customers.
How important is the fill rate as part of the economic equation?
Our economics are always going to favor maximum utilization, but we plan around having empty seats in the same way that airlines do. We've got to meet a certain fill rate for a mission to make sense and take place. But we have to evaluate this on a launch-by-launch basis. Normally, reliability and flexibility are worth more than anything. If we have a rocket that's 50% full, but it launches on time, that often is the much greater value to us and our customers. What we try to give customers is superior manifest rights. And what I mean by that is that if you're not ready to fly, we'll give you the ability to move launches easily.

What if the rocket is not ready?
If the rocket itself isn't ready, and you have to fly now, we'll try to find you the vehicle that is going to be of earliest convenience to the right orbit. And then if we can't find a rocket that's going to the right orbit for you, we can deploy systems that can transport your spacecraft from where the launch vehicle drops you off to your operational destination orbit, using one of our Sherpa vehicles. Sherpa is our fleet of new space tugs that help customers to get to their destination as easily as you would get from the airport to your hotel. If we have to buy a dedicated launcher, we'll do it. If it's rideshare plus one of our Sherpa tugs, we'll do it.
Are you tugging into LEO or are these shuttles also moving further out?
Further out, for sure. I've been fairly vocal that our vision, if we fast-forward ten years, is to be the default phone call for all those who want to get anywhere in cislunar space, anywhere in the Earth-Moon system. We don't talk about it a lot, because now and for the near future, our bread-and-butter business is Low Earth Orbit. But we see growing interest in small Geostationary and Medium Earth Orbit missions, lunar missions and lunar infrastructure missions. We want to be able to deliver into low lunar orbit, we want to be able to deliver high value science payloads into heliocentric space. Our ambitions are clearly going beyond LEO.
How important is it to control the whole hardware and technology or develop it even in house? Or can you buy it from the shelf?
We buy a lot of hardware; we have a network of suppliers that are trusted. The challenge with vertical integration is that you have to be good at everything and stay good at everything. It has its advantages, but it has its striking disadvantages as well. Flexibility is our philosophy; we will always try to partner with the best suppliers. We buy deployers, for example, we buy propulsion, because, I guess, we don't have the hubris of thinking we can do those things better. But sometimes it does make sense to develop it in house.
For example?
For example, our sequencers. Imagine that you have to deploy a dozen spacecraft.  You don't want to deploy them all at once and keep your fingers crossed they won't collide. It's important to  be able to precisely sequence when they're deployed relative to each other to avoid issues such as collision. We didn't see a good solution in the market that was low-cost. So, we developed our own version to use on our Sherpa vehicle. We develop avionics where we can't buy the right solution or where it's prohibitively expensive. We're going to be flying variants of the vehicle, with very low thrust and slow moving, but highly efficient and useful for changing inclination or decision nodes, typically for remote sensing customers. The right tool for the right job, I think is what it comes down to.
How much have falling rocket prices influenced and changed your business?
We certainly recognize the pioneering efforts of SpaceX to bring down prices, it's helped our business, frankly, as you might imagine. A rising tide floats all boats. But you also have to recognize that it isn't always only about the launch price. The lion's share of our customers are either too small or too large to fit perfectly onto a rocket directly, we need to provide adapters, agility and flexible services. And then there is the cost of the spacecraft, where people expected that, with falling launch costs, we would also enter a regime of market elasticity. That hasn't really happened. The cost of the spacecraft itself hasn't fallen in a commensurate way with launch. There's been optimism that spacecraft will be mass produced low-cost items, but in aerospace, nothing's mass produced, really.
Which trends do you see in the launch market?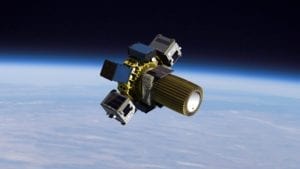 We expect it to continue that the launch market bifurcates into two classes. One class will be the small dedicated launchers, like Rocket Lab's Electron. The small launchers will be the Uber or Lyft of space transportation, where they'll give you the door-to-door service, you might pay a premium for it, but you'll get exactly where you want to go. But because they're small, they can't really enjoy great performance or great economies of scale. And then, on the other side, you'll see the big launchers, they're wholesalers, they're not retailers, they will not accommodate the individual payload. So, we either have limited performance or limited customization, and therefore see the need for intermediating "matching" services. We need to make sure that a customer can move with agility between these two, to the orbit that they want, and when they want.
How much place is there for small satellite launchers?
The increased utility of a spacecraft at a given size has certainly been what's led many people to enter into the small, dedicated launch world. It's the Wild West, and we have yet to see, as an industry, what the market will support. There are a lot of venture capital people who would say that there are between 100 and 130 dedicated small satellite launchers that are trying to enter service. It's over supplied. However, when we look at it, we're always struggling to find capacity — we can't get enough of it. So it's going to be interesting to see how the industry shakes out. I think that there's definitely room in the market for three or four dedicated small satellite launchers, even if companies like SpaceX and Blue Origin are able to bring to market these large vehicles that realize extraordinary economies of scale.
Not only the marketplace but also space gets more and more crowded. Does that worry you?
Space is big, but Low Earth Orbit is getting crowded and it's getting harder and harder to punch through that. But as the problem grows, the sophistication of our ability to track objects grows, too. We recognize not only the efforts of NORAD here in the U.S. but also the growing number of commercial entities that are trying to provide better and better tracking of space assets, helping us to make sure that there's continued access without being unsafe. It's our internationally shared playground, we don't want to screw it up.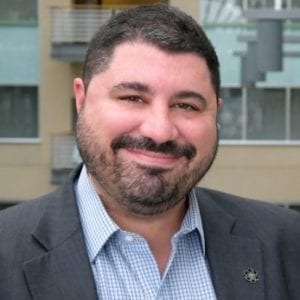 Grant Bonin is Senior VP of Business Development at Spaceflight Inc. As a business development leader, Grant works at the crossroads of engineering, strategy and business development, and oversees Spaceflight's sales team while working with every team to internally ensure mission success for each customer. Grant has broad industry experience with spacecraft development and launch systems and has dedicated his career to improving access to space. Grant has over 40 operational spacecraft in orbit and has several more in development slated to launch in the upcoming years.  
SpaceWatch.Global thanks Grant Bonin of Spaceflight for the interview.