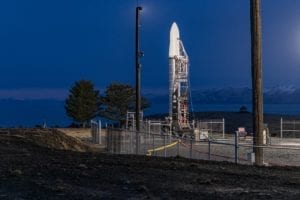 Luxembourg, 16 December 2020. – The rocket start-up Astra succeeded to reach space with its second launch attempt from Alaska, the company tweeted yesterday.
Astra launched its Rocket 3.2 vehicle from the Kodiak launch pad in Alaska into a peak altitude of 390 kilometers but was "half a kilometer per second short" of the targeted orbital velocity, the firm said.
The California-based small rocket start-up considered the launch a success and showed itself "beyond ecstatic". Rocket 3.2 was Astra's second launch attempt this year; the first one, Rocket 3.1, failed in September, when the rocket crashed shortly after lift-off close to the launch site.
In the meantime, the other small rocket launcher Rocket Lab also had a success to celebrate; it successfully launched its 17th mission, deploying the first spacecraft in orbit for the Japanese synthetic aperture radar (SAR) satellite data and solutions provider Synspective.