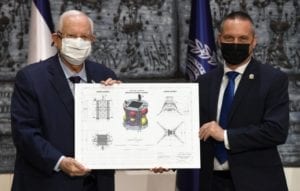 Paris, 11 December 2020. – Israel will try it again: After the crash of its first robotic Moon lander in 2019, the country will launch Beresheet-2, its second attempt to land an unmanned small spacecraft on the Moon.
The Beresheet-2 probe is "going to head to the Moon in the first half of 2024", Israel's Science Ministry and the 'Israel To The Moon' initiative announced. "It will include two landers, each of which will carry out experiments on the surface of the Moon, and an orbiter that will stay for several years."
The project is led by state-owned Israel Aerospace Industries (IAI) and the non-profit space venture SpaceIL. The mission is expected to cost around $100 million – as much as the first one – to be raised from international partnerships and donors, the initiators said.
Seven countries expressed interest in participating in the mission, Israeli media quoted the country's science minister, and the subject "has been raised" with the United Arab Emirates.