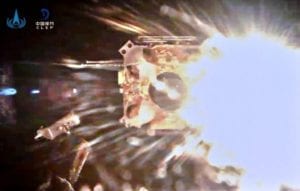 Luxembourg, 17 December 2020. – China has landed Moon samples back on Earth, Chinese and international media reported.
A capsule from China's spectacular Chang'e 5 mission landed with lunar dirt and gravel in Inner Mongolia last night, the reports said.
It is the first time in more than four decades that a lunar mission brought Moon rocks and samples back to Earth. The Chang'e 5 capsule is expected to contain around two kilograms of Moon samples.
Chang'e 5 was launched in November 2020. The robotic Moon mission was conducted by the Chinese Lunar Exploration Program.
Japan recently succeeded, with its Hayabusa 2 mission, to bring pieces form the near-Earth asteroid Ryugu to Earth. NASA's OSIRIS-REx mission is scheduled to return samples of the near-Earth asteroid Bennu in September 2023.