by Blaine Curcio and Jean Deville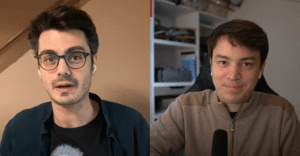 As part of the partnership between SpaceWatch.Global and Orbital Gateway Consulting we have been granted permission to publish selected articles and texts. We are pleased to present "Dongfang Hour China Aerospace News Roundup 14 Dec – 20 Dec 2020".
Hello and welcome to another episode of the Dongfang Hour China Aero/Space News Roundup! A special shout-out to our friends at GoTaikonauts!, and at SpaceWatch.Global, both excellent sources of space industry news. In particular, we suggest checking out GoTaikonauts! long-form China reporting, as well as the Space Cafe series from SpaceWatch.Global. Without further ado, the news update from the week of 14-20 December.
Long March 8 Launch on Sunday 20/12
Sunday morning (20/12/20) saw plans for the very first launch of China's latest medium lift launch vehicle, the Long March 8, from Wenchang Launch Center in the southern island of Hainan. Unfortunately, the launch was scrubbed on Sunday due to a tropical storm, but we expect the launch to occur in the coming days.
a classified EO technology satellite by CAST (XJY-7)
Ethiopian ETHSAT6U (cubesat), in cooperation with Beijing Smart Satellite
Guodian Gaoke's Tianqi-12 satellite (for its IoT constellation)
2 satellites of Spacety: one in cooperation with CETC (Haisi-1) and the other a technology verification satellite
The Long March 8 completes the new generation launch vehicles developed by CASC subsidiaries CALT and SAST, with the generation consisting of the LM5, LM6, LM7, and which are all operational, in addition to the LM8. This latest rocket is able to put 5 tons into sun-synchronous orbit.
The LM8 is actually based on a set of rather proven building blocks, used in LM5-7, namely the kerolox YF-100 engines in it's core stage and boosters (used also in LM 5, 6 and 7), and the YF-75 for the 2nd stage, a hydrolox engine employed already on the LM3 as well as the LM5.
While the upcoming launch is going to be expendable, it is noteworthy that LM8 will (eventually) be CASC's first attempt at reusability. As was unveiled in 2018, CASC plans to have the first stage, together with the two side boosters, perform vertical landing, throttling the engine and using grid fins for control during the landing stage. This will no doubt mean modifications on the YF-100 to enable the engines to run at lower thrust, to be restartable multiple times (especially with the current engine layout).
Couple of other noteworthy points here: it's interesting that China has another rocket to launch from Wenchang. The spaceport, built on Hainan island in the south, has previously been primarily used by the Long March-5, a seldom-used (but increasingly common) heavy-lift rocket. With the Long March-8 launching from Wenchang, we have another source of demand for the site. Also point of consideration is the modular nature of the new family of LM rockets. The rockets have been developed rather cautiously and deliberately, in line with 5 years plans, and we may see a relatively fast ramp-up of several rockets at one time as critical components become proven, and especially if China starts to get reusability right. It would also be interesting to know what it would have cost these commercial companies to launch on a LM-8 as opposed to a KZ-1A or some other rocket.
Also impressive is the diversity of this launch. We have a classified EO satellite, an Ethiopian satellite developed with a Chinese commercial satellite manufacturer (and one having been established as recently as 2018!!), another satellite for Guodian Gaoke, a commercial constellation operator, and a pair of satellites for Spacety, one of which was done in cooperation with CETC, a major SOE. Overall, a large variety of different companies and entities planning to get to orbit using this rocket. I wonder who did the commercialization/service provision of the launch, given the plethora of customers.
Chang'e-5 Return to Earth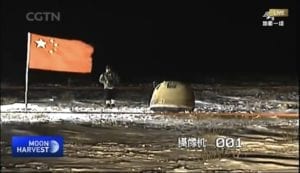 China's Chang'e 5 return capsule returned to Earth in the evening of December 16th, after a perilous re-entry in the atmosphere. The capsule was located rapidly by search teams and helicopters (equipped with infrared cameras). This was live streamed on Chinese media, and was absolutely fascinating to watch.
The capsule was then transported to CAS facilities, On the 19th of December, a ceremony was held to remove the sample container and weigh the sample, which turned out was 1,731 kg as opposed to the expected 2 kg.
Chinese scientists will start studying the samples over the next weeks, no doubt with a focus on the focal points of future Chinese lunar missions: in situ resources utilization, production of energy, and space agriculture.
Noteworthily, Chinese President Xi Jinping sent his congratulations to "all comrades involved in the Chang'e-5 mission" in a letter sent on 17 December.
Also of note is that there was a YouTube live stream of the retrieval of the samples from Inner Mongolia–high quality footage, and overall a pretty good example of China getting better at public relations/marketing of its space program. This has been pretty good from end-to-end, with beautiful footage of the Long March-5 launch appearing on Bilbili and subsequently, Twitter, and with some cool animations and photos appearing from Lunar orbit. As I always like to do when the opportunity arises, I would also point out some of the incredible photos taken by the Longjiang satellites on the Chang'e-4 mission in 2018.
As space is becoming bigger more generally, and as companies like SpaceX make more people interested in space, more countries will maybe be compelled to have space activities. That said, only a handful of countries, China among them, will be able to spearhead such big ticket projects as space stations, large Mars missions, and eventual human missions to the Moon and  beyond. An example is the French collaboration on the successor Chang'e-6, which will now be able to travel to the lunar south pole around 2023. Projects like the Chinese space station will likewise probably end up being appealing for countries that want to send people to space, and indeed countries like Pakistan have at various times seemingly agreed to send a Pakistani to the Chinese space station.
New JV between China Eastern, Juneyao Group, and China Telecom
On December 16th 2020, China Eastern, Juneyao Group, and China Telecom jointly established a joint-venture called KDLink, which is to focus on connected aircraft. China Eastern is one of the Big-3 Chinese airlines with its main hubs in Shanghai; Juneyao Group is the parent company of Juneyao Airlines, with activities also in retail, manufacturing and finance. And China Telecom is China's oldest telco, with an historical business in providing satellite broadband to airlines among other activities. China Telecom is also one of 5 companies that has a license to sell satellite capacity, along with the other two major telcos, China Satcom, and CTTIC.
The press release doesn't discuss too much in detail the projects of the JV (other than "product innovation, technology innovation and new application"). But China Eastern has been one of the pioneering airlines in China, with approximately half of the connected aircraft in China belonging to the Shanghai-based company. The joint-venture with Juneyao Airlines, another Shanghai-based airline which also operates connected aircraft, could mean a new wave of deployment of (satellite?) connectivity among both airlines' fleets.
How the new JV, KDLink, will bring value, has yet to be determined, but it is clear that it will work on mechanisms to strengthen the business case for inflight connectivity. China currently has a very low rate of connected aircraft (<10%), compared to markets such as the US or Europe. This latest move by CEA and Juneyao could bring some movement to the IFC landscape, which has seen a number of airlines experimenting connectivity over the past 6-18 months, but with yet an airline to actually make the move. Could KDLink be a trigger to a second wave of Chinese IFC?
Also interesting that they do not specify frequency band. I believe China Eastern uses entirely Ku-band, but there have been recent flights using Ka-band on Qingdao airlines. One could also argue that the failure of ChinaSat-18 has, to some extent, held up the development of the IFC industry, insofar as Western China remains not covered by high throughput Ka-band capacity.
It's also somewhat interesting that an airline (China Eastern) is getting involved in the IFC service provider business seemingly. To some extent, this is a commentary on 1) the general power and size of SOEs. China Eastern has revenues of US$20 billion, and 2) the lack of an extremely capable domestic turnkey IFC service provider. There are companies that can do some parts of the value chain, but it seems that China Eastern is trying to get involved, with a couple of high-powered partners.
Baidu is Considering Making its own Electric Vehicle
Or outsourcing to other manufacturers, as the case may be. Either way, an article appeared this weekquoting "three people with knowledge of the matter" saying that Baidu is considering developing their own electric car through collaboration, potentially with Geely.
Robin Li, CEO of Baidu, was the first billionaire in China to talk about the need to open the space industry to private investment, something he was doing as early as 2014.
This has been another episode of the c China Aero/Space News Roundup. If you've made it this far, we thank you for your kind attention, and look forward to seeing you next time! Until then, don't forget to follow us on YouTube, Twitter, or LinkedIn, or your local podcast source. 
Follow DongFang Hour on Twitter @DongFangHour , Youtube or on https://dongfanghour.com
Blaine Curcio has spent the past 10 years at the intersection of China and the space sector. Blaine has spent most of the past decade in China, including Hong Kong, Shenzhen, and Beijing, working as a consultant and analyst covering the space/satcom sector for companies including Euroconsult and Orbital Gateway Consulting. When not talking about China space, Blaine can be found reading about economics/finance, exploring cities, and taking photos.
Jean Deville is a graduate from ISAE, where he studied aerospace engineering and specialized in fluid dynamics. A long-time aerospace enthusiast and China watcher, Jean was previously based in Toulouse and Shenzhen, and is currently working in the aviation industry between Paris and Shanghai. He also writes on a regular basis in the China Aerospace Blog. Hobbies include hiking, astrophotography, plane spotting, as well as a soft spot for Hakka food and (some) Ningxia wines.