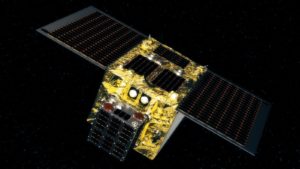 Berlin, 22 Dec 2020. – Astroscale has shipped its End-of-Life Services by Astroscale demonstration (ELSA-d) satellite to Baikonur Cosmodrome in Kazakhstan for a March 2021 launch on a Soyuz rocket.
"Shipment is always a significant milestone on any satellite development program," said Gene Fujii, Astroscale Chief Engineer. "We have officially moved from the manufacturing phase to the launch and operations preparation phase, and we are eager to see ELSA-d in orbit."
ELSA-d is the first mission to demonstrate the core technologies necessary for space debris docking and removal, a major step towards expanding on-orbit services and achieving Astroscale's vision of safe and sustainable space for the benefit of future generations.
"Our journey to this point has been long, challenging, and rewarding — now begins a trailblazing journey for ELSA-d itself," said Nobu Okada, Astroscale Founder and CEO. "A new era of space sustainability starts with this shipment, and watching ELSA-d leave our Tokyo headquarters was a powerful moment."
That moment has been captured here: