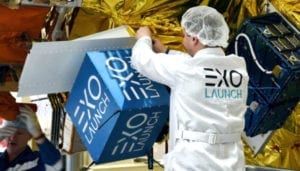 Paris, 22 December 2020. – The rideshare launch and deployment services provider Exolaunch has started to integrate 30 smallsats for SpaceX's first dedicated rideshare mission early next year.
Exolaunch begins its launch campaign to integrate 30 small satellites from the U.S. and Europe aboard SpaceX's Falcon 9 rideshare mission scheduled for no earlier than January 2021, the company said.
"This is the first dedicated rideshare mission of SpaceX's SmallSat Rideshare Program and the first of several rideshares Exolaunch is manifesting on Falcon 9 as part of a multi-launch agreement the company signed with SpaceX earlier this year."
For each Falcon 9 launch, Exolaunch offers to provide comprehensive rideshare mission management, deployment, and satellite integration services, the company said.
The upcoming launch "will be one of the largest and most diverse rideshare missions of the company", Exolaunch said. "Most of the nanosatellites have been integrated into their launch deployers in the company's Berlin facilities, at the moment the team of Exolaunch is performing the final integration of the diverse small satellite cluster with Falcon 9 at SpaceX's facilities in Cape Canaveral, Florida."
Exolaunch's manifest for this mission includes small satellites from the German Aerospace Center (DLR), Dresden Technical University, NanoAvionics and other commercial companies for the Internet of Things, Earth Observation and scientific applications.
Exolaunch said it will utilize its new EXOport, which is a "flexible multi-satellite adapter designed to enable optimal accommodation of microsats and nanosats on the Falcon 9 ESPA ports".