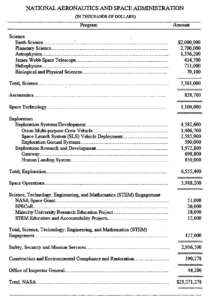 Paris, 22 December 2020. – The U.S. Congress will provide NASA with $23.27 billion funding next year, an increase over 2020 but $1.97 billion less than originally requested by the administration.
U.S. Congress passed the House Appropriations Committee's omnibus spending bill consisting of 12 fiscal year appropriations bills yesterday, after congressional leaders found a compromise on the $900 billion pandemic relief package. The total U.S. Government funding for the fiscal year 2021, ending 30 September, amounts to more than $1.4 trillion.
The bill provides NASA with $23.27 billion for this fiscal year, out of which $7.3 billion are earmarked for the different science missions (Earth, Planetary, Astro- and Heliophysics, James Webb), supporting programs that had been questioned in the negotiations before.
Explorations receives $6.55 billion, supporting the administration's request for key programs like the Space Launch System (SLS) vehicle deployment with $2.58 billion, the Orion crew vehicle development with $1.4 billion and the development of exploration ground systems with $4.58 billion.
The budget for the Human Landing System for Moon missions, however, fell short, with only one quarter ($850 million) of the administration's request.
NASA Administrator Jim Bridenstine had warned earlier that a reduction of this item would make a U.S. mission with a human landing on the Moon by 2024 "more difficult".
The bill also allocates $156 million to Planetary Defense (which includes the Double Asteroid Redirect Test, DART), but only $17 million to the commercial Low Earth Orbit (LEO) programs under Space Operations, which is supposed to include the development of a successor to the International Space Station (ISS).