by Bailey Cunningham and Samuel Thorpe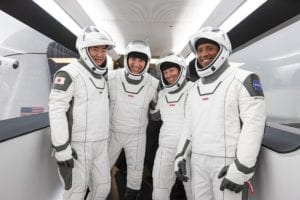 The inaugural operational mission for NASA's Commercial Crew Program launched from Kennedy Space Center on November 15th has rocketed humanity into a new age of space. The launch of Crew-1 may well mark the genesis of truly affordable access to space. Certainly, the United States government's utilization of commercial partners will certainly have lasting – and positive – effects on the space industry.
NASA's SpaceX Crew-1 carried four astronauts to the International Space Station aboard the Crew Dragon capsule, Resilience. The mission launched from historic Launchpad 39A, carrying NASA astronauts Michael Hopkins, Victor Glover, and Shannon Walker, and JAXA astronaut Soichi Noguchi. Crew-1 astronauts are scheduled for a six month tenure aboard the International Space Station, allowing for overlap with the next Crew Dragon mission, Crew-2, in the spring. While Crew-1 launched in a brand new capsule, Crew-2 is set to launch aboard the refurbished Endeavor capsule, the spacecraft that carried out the Demo-2 launch in May 2020. These launches demonstrate a paradigm shift in how NASA approaches its missions and validate the viability and importance of commercial programs to come.
The United States Space Shuttle program is a great example of why space ventures may be better suited in the hands of private industry, or at least, public-private partnerships. While reusability has recently gained popularity and traction with commercial entities, it is not a new concept. The Shuttle program aimed to provide greater access to space at a fraction of the cost through the use of the world's first reusable spacecraft.  Over time, however, this proved to be quite challenging, especially in the hands of government entities alone. With the United States government spending an average of $450 million per mission the Space Shuttle program's success could arguably be overshadowed by its burden on the American taxpayer. Costs coupled with safety concerns doomed the program, and the last Shuttle, Atlantis, was launched in 2011.
Now, after nearly a decade, NASA astronauts are once again being launched from American soil. This time, however, crews are traveling aboard a commercial spacecraft. This transition to the use of SpaceX and the Crew Dragon capsule has shown a significant shift from NASA's traditionally almost entirely government controlled launch providers. The launch of Crew-1 marks the dawn of the next era of human space travel and paves the way for commercial industry ascendance in space exploration.
SpaceX has continuously revolutionized the industry and has reinvigorated the notion of reusability in the space sector. It has  successfully relaunched the first stage of Falcon 9 in 2017, and has reused boosters for over 45 missions since then. While SpaceX has worked tirelessly to achieve peak reliability throughout its fleet, delays and setbacks seem to be inevitable. Crew-1 experienced several delays since the original launch date. Most recently, SpaceX conducted an investigation into the first stage engine of Falcon 9 after concerns arose regarding rises in pressure in the gas generator during an unrelated launch attempt in early October. The investigation revealed a valve blockage on the gas generator, leading to SpaceX subsequently replacing two engines on the Falcon 9 booster ahead of the Crew-1 launch. The rapid response by SpaceX has demonstrated one of the many advantages of partnering with the commercial sector, and sets the tone for future missions.
In the wake of Crew-1, it is clear that NASA has recognized the advantages of commercial space. NASA has taken a particular interest in commercial space programs in recent years, spending over $16 million to test over thirty space startups to meet its future needs. NASA's view on commercial space endeavors demonstrates its commitment to expanding the field and including as many providers as possible. NASA has gone so far as to state in its National Space Policy that: "A robust and competitive commercial space sector is vital to continued progress in space." Moreover, the Crew-1 mission has emphasized the many advantages of commercial space programs and public-private partnerships. Through the utilization of the private sector, NASA has cut costs by a significant margin. NASA is able to avoid paying over $90 million per seat on the Russian Soyuz, and instead spends less than $60 million per seat through SpaceX. This drastic reduction in costs has signalled to NASA and its international partners that the private sector can easily rival its traditional, expendable counterparts. The launch of Crew-1 has emphasized the need for increased cooperation and innovation in pursuit of affordable access to space.
Space has long been an unattainable goal for many, however, with the inclusion of commercial partners, this may be an obstacle of the past. As more companies become involved and technology inevitably advances, prices will continue to fall, giving way to widespread access to space. Commercialization of the industry has undoubtedly helped move space out of the hands of the few and transition it into the hands of many. The launch of Crew-1 has not only impacted those within the United States, but it has reached people around the world and demonstrated the viability of commercial providers. Crew-1 has solidified a new perspective on access to space, and has reinforced the notion that space is for everyone.
The space sector has undergone a major transformation in just a few short years. Through emphasizing innovation and cooperation, the industry has been pushed forward into a new age of space exploration. Reusability has opened the door to widespread access to space, however, there is much that remains to be done. Governments must continue to work alongside commercial entities in order to drive down costs and provide realistic access to space for the first time. The Crew-1 launch is just the beginning, not only for NASA's Commercial Crew Program, but for the next generation of space explorers as well. The future of space exploration will be built on the foundation laid by Crew-1, just as it was after the launch of Apollo.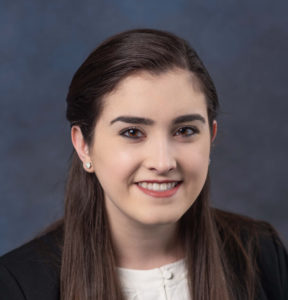 Bailey Cunningham is a third-year law student at Florida State University. Prior to law school, Bailey attended the University of South Florida for her undergraduate degree, where she majored in Political Science and minored in both Astronomy and Intelligence Studies. At FSU Law, Bailey is an Executive Editor for Business Review, and the Vice President of Space for the Aviation and Space Law Society. Outside of school, Bailey volunteers with For All Moonkind and serves as the Space Law Project Manager. Through this organization, Bailey has presented at the United Nations Scientific and Technical Subcommittee of the Committee on the Peaceful Uses of Outer Space on the importance of preservation and sustainable practices in returning to the moon. Bailey is a National Space Society Legal Fellow, serves as the Vice-Chair for the NSS International Committee, and has represented NSS at a multi-stakeholder hearing hosted by UN-Women on the empowerment of women and girls.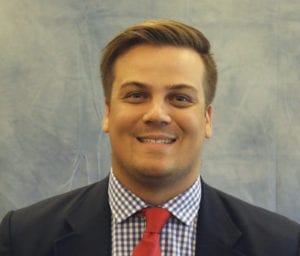 Samuel Thorpe is a second year law student at the University of Mississippi School of Law where he focuses his studies in Air and Space Law. Sam is a National Space Society Legal Fellow and also takes part in many extracurricular activities that focus on Air and Space Law. Recently Sam has become President of the Ole Miss Air and Space Law Society and a Senior Editor on the Journal of Space Law. Sam's infatuation with space started as child when his parents would wake him up to watch shuttle launches from his front yard in Orlando, Florida. Sam rediscovered his love for space at the University of Central Florida in Professor Robert Bledsoe's Space Law class. Sam hopes to publish his thoughts on the creation of space infrastructure, settlement and mining before he graduates with his J.D. from the University of Mississippi.