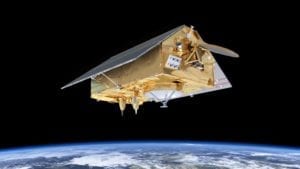 Paris, 23 November 2020. – A new family member: Copernicus Sentinel-6 was launched successfully on a SpaceX Falcon 9 on Saturday.
The 1.2 tons satellite lifted off from SpaceX's Vandenberg Air Force Base in California and entered its orbit one hour after lift-off, the European Space Agency (ESA) said.
Sentinel-6 is equipped with the latest radar altimetry technology and will monitor the ocean topography and sea levels.
"Monitoring sea-surface height is critical to understanding the changes taking place so that decision-makers have the evidence to implement appropriate policies to help curb climate change and for authorities to take action to protect vulnerable communities," ESA said.
Copernicus Sentinel-6, which has the shape of a house, carries the name Michael Freilich, honoring the NASA oceanographer who died in August.
The new satellite follows ESA's earlier ERS and Envisat satellites and complements today's CryoSat and Copernicus Sentinel-3. An identical satellite, Copernicus Sentinel-6B, will be launched in five years to take over the mission, ensuring the continuity of data until at least 2030, ESA said.