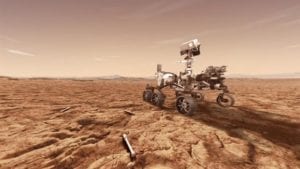 Maxar Technologies , a developer in Earth Intelligence and Space Infrastructure, congratulates NASA on the successful launch of Perseverance Rover, which began its journey to Mars on an Atlas V rocket launched from Cape Canaveral Air Force Station in Florida earlier. Maxar built Perseverance's Sample Handling Assembly (SHA) robotic arm and camera focus system, and it has more than 30 years of space robotics heritage, including five robotic arms for previous Mars missions – the Spirit, Opportunity and Curiosity rovers, and Phoenix and InSight landers.
When Perseverance lands on Mars in February 2021, it will begin searching for signs of livable conditions and microbial life from the ancient past. As Perseverance explores, the SHA will manipulate, assess, encapsulate, store and release collected Martian soil and rock samples. The camera focus system, part of the SHERLOC instrument and WATSON imager, will support this effort by enabling Perseverance to identify promising samples on the surface of Mars. A future mission could potentially return collected samples to Earth.
"Congratulations on the successful launch to our friends and colleagues at NASA and its mission partners," said Megan Fitzgerald, Maxar's Senior Vice President and General Manager of Space Infrastructure. "We're looking forward to the exciting science that Perseverance will conduct with the help of the robotic arm we built."
Robotics have proven themselves as essential tools for a wide variety of space missions. With the ability to provide extreme accuracy under severe temperature variations and within dusty and dirty environments, robotics can even lend a hand when something unexpected happens, such as in the case of the German Aerospace Center's heat probe on NASA's InSight lander.
"When InSight touched down on Mars in November 2018, it activated its Maxar-built robotic arm to place sensitive instruments onto the Martian surface," said Lucy Condakchian, Maxar's General Manager of Robotics. "The robotic arm then went on standby mode, its mission having been accomplished. Shortly after, a heat probe designed to take Mars' temperature got stuck while attempting to burrow into the Martian soil. To remedy this, NASA leveraged InSight's robotic arm to push the mole underground – a task that we didn't design it for."
Maxar is also extending its robotic leadership to the Moon. In addition to the company's work on the power and propulsion element and human landing system for NASA's Artemis program, Maxar is building a robotic arm called Sample Acquisition, Morphology Filtering and Probing of Lunar Regolith (SAMPLR) for NASA's Commercial Lunar Payload Services program. When SAMPLR lands on the south pole of the Moon in 2022, it will be used to acquire samples and determine the geotechnical properties of lunar regolith.
Maxar continues to challenge the market by fusing reliable, cost-effective satellite platforms with best-in-class robotics. The company is building a spacecraft with three robotic arms for NASA called OSAM-1, which will demonstrate on-orbit servicing, assembly and manufacturing. This technology promises to enable spacecraft that can build and reconfigure themselves on-orbit, advanced space telescopes and other infrastructure that never could have been launched within the confines of existing rocket fairings.