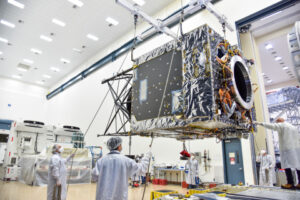 Luxembourg, 30 March 2021. – Maxar Technologies delivered the propulsion chassis to NASA for its Psyche mission, the company said.
The Solar Electric Propulsion (SEP) chassis was delivered to NASA's Jet Propulsion Laboratory (JPL), Maxar said, providing NASA the opportunity "to budget, design and build the historic Psyche mission on flight-proven, commercially developed hardware".
The Psyche mission is expected to launch in August 2022 to explore an asteroid which is orbiting between Mars and Jupiter and which might be made of core material from an early planet, Maxar said.
The Psyche spacecraft will travel more than 1 billion miles and arrive at the asteroid in 2026, where it will spend 21 months orbiting the 140 mile-wide asteroid.
Maxar was selected in 2017 to provide the space platform for the mission.