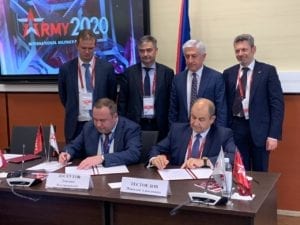 Glavkosmos JSC and JSC Academician M.F. Reshetnev Information Satellite Systems (ISS-Reshetnev Company) signed a Memorandum on joint participation in the implementation of the Comprehensive Scientific and Technical Program of the Full Innovation Cycle "Global information satellite systems" (GISS Program) on the sidelines of the International military-technical forum Army-2020. Dmitry Loskutov, Director General of Glavkosmos, and Nikolay Testoedov, CEO of ISS-Reshetnev Company, signed the Memorandum.
"We expect that Glavkosmos' experience and competence in promoting products to the international market of space services will allow foreign customers to perceive the highest quality of ISS-Reshetnev Company products. The experience and leading positions of the Siberian company in the production of communication, navigation and surveying spacecraft can provide foreign consumers with access to up-to-date information services. In the long run, this will improve the quality of life of millions of people around the globe," Dmitry Loskutov said.
The document foresees the joint promotion of new automatic spacecraft systems to the international space market, including multi-satellite groups of small spacecraft for civil-use. In addition, both Glavkosmos and ISS-Reshetnev Company will promote innovative products, particular elements and products of civil space technology to the international space market. The two companies are also devoted to attracting extra-budgetary funds for implementing the research and development of promising elements of space technology through the scientific and technical groundwork within the GISS Program.
ISS-Reshetnev Company, as the leading Roscosmos producer of communication, broadcasting, retransmission, navigation and surveying spacecraft and the prime contractor of the GISS Program, will guarantee the research and development works for advanced spacecraft, products and elements of civil space technology.
Glavkosmos, as the foreign economic operator of Roscosmos, will provide prospective foreign customers with turnkey solutions for developing civil space systems and complexes based on advanced satellite platforms for small-, medium- and heavy-class spacecraft developed by ISS-Reshetnev Company, as well as with the innovative products, instruments and elements of space technology developed within the GISS Program.
Glavkosmos will provide the necessary assistance in financing and insuring projects, obtaining appropriate permissions for foreign economic activity in strict accordance with the Russian legislation, provide marketing services, analysis of trends in the international space market and global trends in satellite construction technologies.