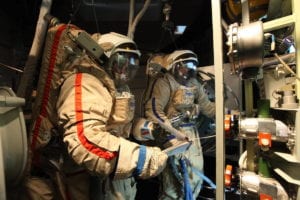 The Gagarin Research and Test Cosmonaut Training Center (GCTC) has started the planned training programme of Indian astronaut candidates under the contract between Glavkosmos, JSC (part of the State Space Corporation Roscosmos) and the Human Spaceflight Centre of the Indian Space Research Organisation (ISRO).
After a thorough selection process, the four Indian Air Force fighter pilots became the ISRO's candidates for the planned Gaganyaan human spaceflight mission.
The 12-month training programme began on Monday, 10 February 2020. The programme includes comprehensive and biomedical training of the Indian candidates, which will be combined with regular physical tests and exercises. In addition, the candidates will undertake detailed study of the systems of the Soyuz manned spaceship and be trained in short-term weightlessness mode aboard Roscosmos' special Il-76MDK aircraft.
The Indian astronaut candidates will also be trained in responding to an abnormal landing of the manned spaceship descent module in various climatic and geographic zones.
Most of the training will take place at the GCTC facilities in Moscow.