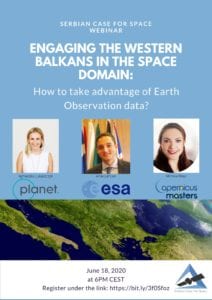 On Thursday June 18, 2020, Serbian Case for Space Foundation (SCS) organized its first webinar, titled "Engaging the Western Balkans in the space domain: How to take advantage of Earth Observation data".
This topic was chosen for the first webinar, as the problems SCS has encountered in two years engaging Serbian state and commercial stakeholders are not isolated, but shared by other countries in the Western Balkan region.  A number of these countries are not members of the European Union (Serbia, Bosnia and Herzegovina, Monte Negro, Albania, North Macedonia) and almost none of them are members of the European Space Agency (ESA) (the above mentioned and also Croatia and Bulgaria).
In these countries space programmes are practically non-existent or they are in their early infancy. Strong governmental support is lacking and there is no robust private space industry –  only a small number of individual firms. However, current absence of Western Balkan countries could be overcome in a short time frame if those countries would, as their entry into the space domain, focus and invest in diverse applications of Earth Observation (EO) data. With this in mind, three speakers were invited to share their different perspectives and discuss opportunities for the region.
The first speaker was Arne Lahcen, Policy Officer within the Directorate of Earth Observation Programmes at the ESA. He presented "Unleashing the Potential of Earth Observation for Society", which provided a comprehensive overview of what the EO programme in ESA entails, focusing on the utility of EO satellites in monitoring the current COVID-19 crises, climate change, and biodiversity. Arne demonstrated how, with the help of EO data, it is possible to track changes in agriculture, make economic predictions, measure air pollution, and how this data combined with artificial intelligence and machine learning, can bring unforeseen innovations.
Agnieszka Lukaszczyk, Senior Director for European Affairs at Planet, then presented "Space Technology to the Power of Hundreds". Agnieszka shared the inspirational story of how Planet was founded and became a successful space start-up that does everything in-house (from satellite production, mission operation and control, to gathering and storing data).  She insisted that the key to a successful start-up is to find a problem that you want to fix, and not to create technology solely for the sake of creating technology.  In addition, she emphasized the importance of missions that have a humanitarian character and are not exclusively profit-oriented.
The third speaker, Monika Mayr, Project Officer for Copernicus Masters at Anwendungszentrum GmbH Oberpfaffenhofen (AZO), shared a "General presentation of the Copernicus Masters".  Monika gave a brief overview of the Copernicus Masters, then explained the range of Partner Challenges and Copernicus Prizes offered this year. She shared examples of previous winners and challenges, and strongly encouraged everyone from the Western Balkan to participate.  She emphasized that the idea for a solution does not have to be highly advanced, it can also be an 'embryo' idea.
After the presentations, there was a Q/A session with the audience and many questions were posed, predominantly exploring which niche, EO application area the presenters would advise for engagement. All three agreed that the focus should be on:
local potential –  i.e. which industries are strong and could more easily use EO data to optimize their products and services;
taking into account geographical features of each country (if it's a coastal, river or mountain state, etc) in searching for problems that need to be solved; and
that indigenous EO satellite systems and high expertize in satellite data analytics are not a necessary prerequisite, as there are many ways to utilize existing EO systems and to partner-up with existing experts from space agencies and private sector.
Serbian Case for Space would like to, once again, thank all three guests for their insightful and inspirational presentations.
We look forward to our next webinar, "How to make a career in space", to be held in Serbian on 30 June 2020 with Zoran Kahric from NASA and Dalibor Djuran from Planet. Register here: https://www.eventbrite.co.uk/e/space-cafe-special-with-serbian-case-for-space-tickets-111123565576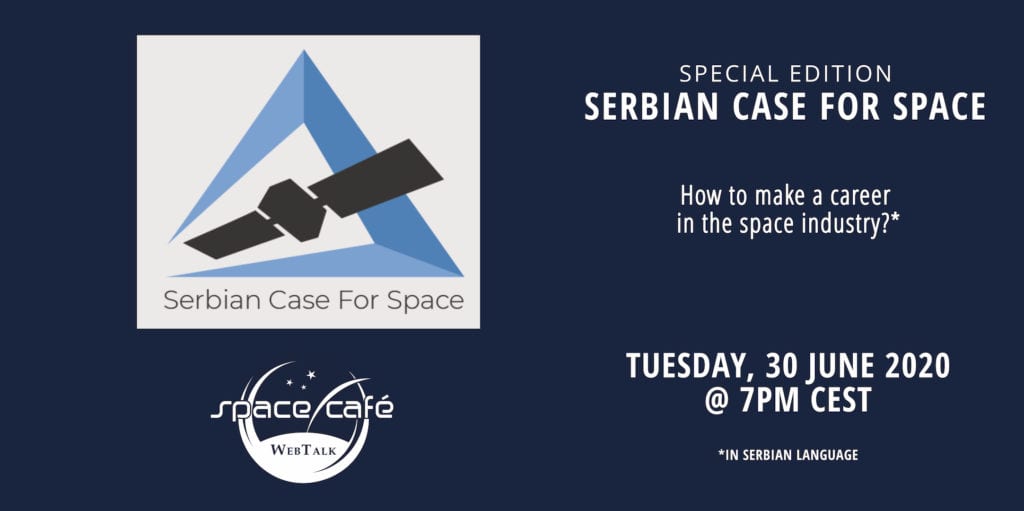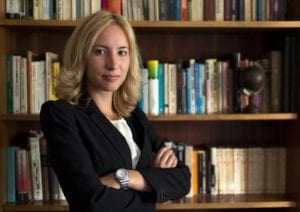 Anja Nakarada Pecujlic is a Co-founder and CEO of Serbian Case for Space Foundation. She is in charge of representing the Foundation locally and internationally. In addition, Anja is a PhD candidate at the University of Cologne, writing her thesis in space law. Furthermore, since December 2017 until June 2020 she was the Project Manager for a European Space Agency (ESA)/Cologne University joint project: "ESA Convention Commentary". Her tasks encompassed scientific research, organization of the project milestones and supervision of the whole writing and reviewing process. Prior to that, from 2014 to 2016, she was an External Consultant of the European Space Policy Institute, Vienna, Austria. Lastly, Anja is an SGAC's National Point of Contact for Serbia and she serves as a judge for Manfred Lachs Moot Court competition.