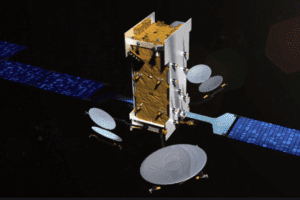 The Amazonas Nexus, a more efficient, safer and more flexible latest generation satellite, will be launched in mid-2022.
HISPASAT, the Spanish telecommunications satellite operator, has won a contract with Artel to embed the U.S. Space Force's Space and Missile Systems Center's Pathfinder 2 mission on its Amazonas Nexus Satellite, which is expected to be launched in mid-2022. The project is led by Artel, the global secure communications network systems integrator certified by the US Department of Defense and supported by Hunter Communications, the satellite communication solutions provider.
The Pathfinder 2 mission will include a 108 MHz payload of space capacity on board the Amazonas Nexus with rigorous levels of overdrive protection that comply with the Department of Defense's demanding security requirements. For greater assurance, Hispasat's new satellite will have to comply with the advanced CNSSP-12 approval process for telemetry and telecontrol, making it more secure and suitable for critical missions.
The Amazonas Nexus is a High Throughput Satellite (HTS) designed with an innovative architecture that combines the Ku and Ka bands to optimize communications and multiply the capacity available for commercial use. The satellite will also feature a latest generation Digital Transparent Processor (DTP), a technological advance that will be able to digitally process the satellite's received signals and increase its flexibility in orbit. The new satellite will have coverage over the entire American continent, the North Atlantic corridor (an area with major aerial and maritime traffic) and Greenland.
This is the third mission of the Pathfinder program, a plan from the Department of the Air Force to conduct different pilot projects that allow the department to explore new contracting models to cover its telecommunication service needs with commercial satellites (COMSATCOM). The program's objective is to ensure greater satellite services and cost savings compared to the traditional short-term space capacity leasing method on commercial satellites already in orbit, while also meeting the required security demands.
In this case, the Pathfinder 2 mission has been tailor-made to embark on a satellite under construction. The United States Government will have use of the transponder during the entire lifetime of the Amazonas Nexus, estimated at fifteen years, while Hispasat will operate the satellite. This is part of the Department of the Air Force's efforts to engage more suitable, higher performance COMSATCOM services with more flexible and safer missions.
This announcement was made on 24 June 2020 by HISPASAT.