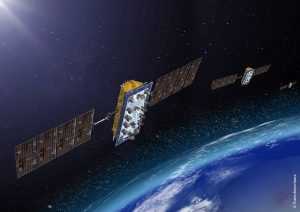 Thriving in the New Space ecosystem can be very difficult. There is no blueprint, and the best ideas can rise and fall quickly and unpredictably. But still, we endeavour: planning missions, assembling satellites, and building mega-constellations. 
One of the most interesting mega-constellation concepts in recent years was LeoSat, which offered game-changing technology to bring fibre capacities into space, offering global connectivity that would be faster and more secure than a terrestrial constellation. At IBC 2019 in Amsterdam, we admired its very promising financial predictions: US$2 billion in MoUs. But just a few months later, the LeoSat dream was over, leaving the The New Space community wondering how this visionary, forward-looking project came to its end.
Ronald van der Breggen, former Chief Commercial Officer at LeoSat, met with SpaceWatch.Global's Torsten Kriening to talk about the highs and lows of this unique project. 
Please tell us about the LeoSat concept. How did it evolve?
Having spent a long time working in both terrestrial and satellite data communications, I recognized immediately that LeoSat's business plan represented the missing link between satellite and terrestrial data. I saw in this new architecture, for the first time, the ability to bring a terrestrial network into space. By putting a router on a satellite and having all the satellites interconnected in space with lasers rather than fiber, LeoSat would create a terrestrial backbone in space with all the features and benefits that traditional terrestrial backbones and networks have — but now with the benefits of space.
But at the same time, there was no commercial strategy, just this technology in development. So, we thought next about how we could get it to the market. We knew that the LeoSat value proposition is very different from traditional satellites, but it was also very different from traditional terrestrial infrastructure. We came up with CURRLSS, which is an acronym that we've used to describe the value proposition of the LeoSat system. It stands for Capacity, Ubiquity, Resiliency, Rapid deployment, Latency, Security, and Scalability.
With CURRLSS in place and perfected, we basically offered a menu of options. Subject to the challenges of the customer in question, we positioned, for example, Latency for High Frequency Traders, Security for Pharmaceuticals, or Scalability for Oil and Gas. There were many verticals and many organizations, each with their own unique issues they wanted to solve. And in many cases, we had the solution.
It was a revelation to finally reach a point where satellites could go beyond their traditional raison-d'etre – bringing TV to households and internet to people in forgotten places – and provide meaningful, high value solutions that terrestrial infrastructure operators never could.
Completely confident we could position LeoSat as something unique, we set out to get the message across through as many trade shows as possible. Of course, we went to the traditional shows for satellite in e.g. Oil and Gas and Maritime, but we also went to new shows. Sometimes we were the only satellite company present. With great enthusiasm but limited resources we were able to reach many companies, and as we had hoped, our message truly resonated.
It was through these efforts that we ended up speaking with many interested customers, which ultimately led to the $2 billion number that we finally closed with.
You had US$2 billion in Memorandums of Understanding by April of last year. That sounds fantastic, so what happened that caused LeoSat to stop its activities only 6 months later?
I was as shocked by all of that as anyone. If you have $2 billion in customer commitments, this is the last thing you expect to happen, particularly when other operators in LEO had not announced anything indicating they had signed-on customers. For a long time, I was in denial. Right up until the end I thought it would all work out. Alas, it didn't.
After our demise, I had some business analysis and soul searching to do in order to come to terms with what happened. My best answer is that when you have two strategic investors, you need to hang on to both. While initially very interested, our Japanese investor, JSAT, had a change in leadership and with that, a change in vision and priorities. These things happen.
But as JSAT was discussing an orderly exit, it became clear that Hispasat, our second strategic investor, could not double up their investment to make up for JSAT's exit, partially due to a change in ownership they had going on at that time.
Lacking alternative investors for Series A and still nowhere near 'Too big to fail", running out of money became unavoidable, and we had a hard landing as a result.
With the benefit of hindsight, we could have made different decisions in several areas: the ITU filing, our technology, vendors, partners, and priorities, that would have resulted in a different outcome. But that's life.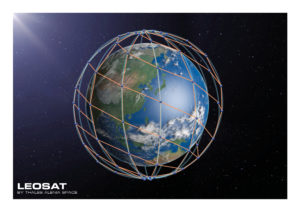 Who will fill the $2 billion void left by LeoSat?
Ultimately, the more pertinent question is: 'Who is offering similar services and can benefit from LeoSat's demise?"
The satellite companies out there planning for communication services in LEO aren't as articulate as I think they should be on what problems they plan to solve, what applications they will support, what markets they're going after — let alone which customers they have signed – if any.
Instead, there is a lot of talk about how many satellites they'll launch, how many gigabits they will carry, the partners they have, and the standards they plan to adhere to. That doesn't help anyone in determining if these services are similar to what LeoSat's customers signed up for. My suspicion is that many of them are still 'gap-fillers' – a service that works well until fiber or 4G/5G comes along and sweeps them out. That's not the future we should have in mind for communication satellites.
Do you think the LeoSat concept, the idea of putting up MPLS in space, is dead? 
No, it isn't dead. It will be done. I'm not sure if it will be another billionaire or a Big Telco in need of global expansion or an advanced security offering. Maybe it will be a router company like Cisco or Juniper exploring the next frontier in space, or maybe a traditional satellite company after all, now taking a data view rather than a satellite view.
Time will tell, but it will happen – there is big demand out there for reliable, secure, and high-speed data networking in space. Really, LeoSat's $2 billion is just the tip of the iceberg.
You mentioned Big Telcos as likely candidates to launch a similar service to LeoSat. Why didn't any of them put their money in already?
This is a great question, and I can offer two reasons: First, do you remember the mid '90s? A 34Mbps E-3/T-3 was still considered a backbone, and all the big Telcos had satellite as a back-up for them. With the fiber explosion and Mbps rapidly transitioning to Gbps, satellite couldn't keep up and Telcos divested their satellite interests.
The internet bubble bursting in the early 2000s sped up that process to a point that "satellite" almost became a bad word in Telco-land. Fast forward 15 years to LeoSat pitching a satellite solution that can augment fiber, and you can understand why it was met with a great deal of skepticism. Companies have long memories when it comes to the big investments of the past. While we've always been able to overcome that hurdle because our solution was very appealing to them, this initial skepticism remained. With every new executive level, you basically had to start from scratch.
Secondly and more importantly, lacking the satellite knowledge they once had, and knowing that any investment in LeoSat would be tied up for 7-10 years, the Telcos were looking to de-risk the project as much as they could. Therefore, they proposed to participate in investment rounds beyond our Series A.
So ultimately, they were very positive. You can even argue that they were more ready to make an investment in LeoSat, than we were ready to take it! To add to the irony, we were so confident we would close our Series A with JSAT and Hispasat that we were completely comfortable with them investing in Series B. In fact, we had successfully lined up two big Telco investors for that Series B. But, with Series A collapsing — well, you get the picture.
Can you reignite the LeoSat project?
Get a team together, put in a $100 million, and you're in business. There are still ITU-filings out there, there is manufacturing capacity, there is launch capacity, and there certainly is customer demand.
Can it all be done for $100 million?
Yes, with $100 million you can get the project de-risked to a point that investors who base their decisions solely on spreadsheets can get comfortable with it. Not only Telcos, but also pension funds and the like will then be happy to climb on board with proof-of-concept in space and customers in line.
Looking at the longer term, and taking potential congestion in LEO into account, what will the future in LEO look like?
I don't know if it will be 10 or 25 years, but my guess is we will see a few reasonably sized — albeit very powerful – constellations, and then also, maybe a few purpose-built, smaller ones.
In the end, it is all about data. Earth observation, comms, IoT, video distribution, it's all data. Powerful, interlinked constellations able to carry data like fiber systems, and with payloads that could include cameras, lasers, and various antenna types — these are the future. These highly potent satellites can connect cellphones in an omni-directional setup, as well as throw down a highly concentrated spot beam over a datacenter or a corporate or government headquarters. That is where things should be going if we're smart about it.
The Americans and the Chinese are very active in LEO, but where are the Europeans?
There is European activity, but I agree it could be bolder in order to keep up with the neighbors. Make no mistake however: the Europeans have great technology, including lasers and 3D-printing. There is a manufacturing and a launch industry, and there are active space programmes driven by individual countries and by the EU itself. But, indeed, in order to keep up, it is time for Europe to step up.
How do you summarize the three main takeaways from the LeoSat endeavour?
The first key takeaway would be that even if you have great technology, you cannot assume you'll be commercially successful. Technology doesn't sell itself: you need to think through what problems you're going to solve and determine if your solution can be paid for by the customers you have in mind. You then need to think through how to position that service and develop a smart commercial strategy. We executed very well on that and had an enthusiastic customer base. Despite the unfortunate outcome, it set us apart from everyone else in LEO – or the satellite industry in general for that matter.
My second takeaway is that, the satellite industry should wake up to the idea that there is a much bigger opportunity out there. It's now largely about 'connecting the unconnected' – but I think that is a failing business model because it merely makes you a business incubator for the terrestrial guys. With LeoSat we've demonstrated there is an opportunity to create a sustainable competitive advantage in satellite communications, allowing you – in partnership with the terrestrial guys – to tap into markets never accessible to satellite operators before.
My third takeaway is that with $2 billion worth of customer commitments, you can rest assured that somebody will jump in and develop LeoSat-like services. It might take six months or 6 years — I don't know — but it will happen, because the demand is clearly there.
It will be interesting to see who takes that profitable plunge. Will it be the Americans, the Chinese, or the Europeans?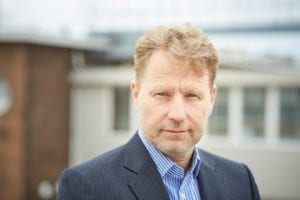 Ronald van der Breggen, Owner of Route206, has more than 20 years of experience in the telecom and satellite sectors. A native of the Netherlands, van der Breggen began his telecom career at Dutch Telecom incumbent KPN, rising to the position of VP IP Services. He then joined SES, one of the world's leading satellite operators as Vice President Customer Account Management. From 2015 to 2019 he served as Chief Commercial Officer of LeoSat, where under his leadership the company secured $2 billion in pre-launch commitments. With Route206, Ronald continues to help companies with brilliant technology to achieve commercial success through his decades of experience, structured approach and large industry network. Ronald holds a Bachelor's degree in Business Administration from Nijenrode University as well as a Masters in Business Telecommunications from the Technical University of Delft, both in the Netherlands.
This interview was edited for length and style.
SpaceWatch.Global thanks Ronald van der Breggen for this interview.