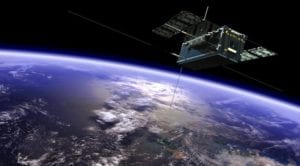 Kepler Communication has selected SpaceX as launch partner to deliver a portion of its first Low-Earth Orbit (LEO) satellite constellation into space onboard SpaceX's reusable Falcon 9 launch vehicle.
Kepler has procured 400 kg of launch capacity from SpaceX for the deployment of multiple satellites. These spacecraft incorporate both a high-capacity Ku-band communications system and a narrowband payload, for both high-speed data transfers and for low-power direct-to-satellite IoT connectivity.
This will be the first time the two companies are partnering for a LEO deployment, and it will be a historical event as it marks Kepler's first use of SpaceX's new SmallSat Rideshare Program, which will see the launch of multiple small spacecraft into sun-synchronous orbit (SSO).
"Kepler looks forward to working with SpaceX to fulfill part of our 2020 launch plans. With this agreement, we are deploying our next-generation constellation on schedule, which will let us serve the growing demand," said Mina Mitry, CEO of Kepler Communications.
"We chose SpaceX as a launch partner and support their SmallSat Rideshare Program which is certainly a one-of-its-kind, exceeding expectations in terms of pricing and accommodation."
"SpaceX is honored Kepler chose our Falcon 9 rideshare program to launch a portion of its innovative nanosatellite constellation, which will help close global gaps in internet connectivity," said Gwynne Shotwell, SpaceX's President and Chief Operating Officer. "SpaceX is looking forward to delivering these important spacecraft to orbit for Kepler."
Kepler's LEO satellite constellation will be comprised of approximately 140 satellites. Planned to be deployed in three phases, from 2020 to 2023 and each with an incremental number of satellites launched, Kepler's LEO constellation will grow to become a space data relay system to serve other constellations with high-speed data backhaul capabilities.
Today, the company is focused on building the install base for Global Data ServiceTM, its pole-to-pole wideband connectivity service for mobile and fixed applications. EverywhereIOTTM, Kepler's affordable solution for Internet of Things (IoT) devices, will enter user trials in the coming months.