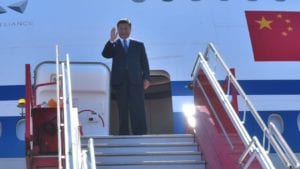 As part of the partnership between SpaceWatch.Global and Dr. Rajeswari Pillai Rajagopalan, we have been granted permission to publish selected articles and texts. This is " Modi-Xi Summit: A More Balanced China Policy?", originally published 11 October 2019 at Observer Research Foundation.
Indian Prime Minister Narendra Modi and Chinese President Xi Jinping are meeting for their second informal summit. Irrespective of the rhetoric of a Wuhan spirit, the relationship is facing difficulties, reflected in a number of disputes between the two countries. This is only a manifestation of the larger strategic problems that exists between India and China, which is rooted in the changing balance of power dynamics in the Indo-Pacific and beyond. While this is not new, the difference now is that India is also displaying greater willingness to respond to China's pressure more firmly or at least to not let efforts to improve ties with China come in the way of stopping efforts to counter China.
This has become evident in a number of different ways. While India has engaged China in informal summits and joined platforms such as the Russia-India-China (RIC), Brazil-Russia-India-China-South Africa (BRICS), and Shanghai Cooperation Organisation (SCO), India is also stepping up its diplomatic and security engagements with other countries and minilaterals. The recent upgradation of the quadrilateral (Quad) engagements between Australia, India, Japan and the US, suggest the seriousness within this grouping in giving more teeth to the initiative. India's military engagements with a number of countries in the Indo-Pacific is again a testament to the fact that New Delhi will seek to improve its ties with Beijing but it will also build and nurture a network of strategic engagements that will go on to provide India with greater strategic maneuverability.
While the MEA statement said that the two leaders will discuss bilateral, regional and global issues and share ideas and perspectives for deepening India-China partnership, the two sides, have also tried to keep expectations low. The problems that face the bilateral relationship is not for lack of understanding or lack of high-level political attention, clearly, but because of intractable real differences of interest. This means that finding compromises and accommodation will be harder.
China is unlikely to give up on using Pakistan to balance India. Only a few days before the summit, the Chinese ambassador to Pakistan, Yao Jing endorsed Pakistan's stand on the Kashmir dispute by stating that "We are also working for Kashmiris to help them get their fundamental rights and justice. There should be a justified solution to the issue of Kashmir and China will stand by Pakistan for regional peace and stability." India, understandably, protested the statement and sought clarification on China's changing position on Jammu and Kashmir. Beijing's stated position so far had been that Kashmir was a bilateral issue that needs to be resolved between two concerned parties. Moreover, this comes in the backdrop of China taking India to the UN Security Council on behalf of Pakistan, which sought a meeting on the Jammu and Kashmir issue following India's decision to remove the special status to the state of Jammu and Kashmir through Article 370. India maintained that this is purely an internal matter and other countries like China and Pakistan had no locus standi. China can be expected to continue to support Pakistan, and attempt to bolster its economic and military capability, and this will continue to provoke New Delhi.
Similarly, China has found other ways to undermine India, especially in multilateral forums. China has, for all practical purposes, opposed India's efforts to reform and expand the UN Security Council and find a permanent seat on the body. China has also opposed India's inclusion in the Nuclear Supplier's Group (NSG). Though there are some areas of common interests – climate change, or trade, for example – there are sufficient disagreements even on these areas. And where there are disagreements, expect Beijing to undermine India. This is not so much because China has any particular dislike of India, but simply because of the nature of international politics, but New Delhi has long been dismissive of this.
It is possible that New Delhi's attitude is changing. In the face of such stiffening positions by China, India has joined a web of networks including the Quad, trilateral groupings such as Japan, India and the US (JAI). India could also upgrade the track II trilateral engagements among countries like Japan, India and Australia, and India, Indonesia and Australia. Reluctantly, New Delhi seems to be coming around to the view that even as it tries to keep the relations with China steady, and do as much as possible to prevent serious downturn or tensions in ties, India will also have to expect that such efforts will not be sufficient or fully successful. Thus, India seems to be now unwilling to stop efforts at alternative arrangements to counter China, while seeking to improve ties with it.
The original can be find here – https://securitystrategyrajagopalan.blogspot.com/2019/10/modi-xi-summit-more-balanced-china.html  Rights reserved – this publication is reproduced with permission from Dr. Rajeswari Pillai Rajagopalan.
Bio: Dr. Rajeswari Pillai Rajagopala is currently a Distinguished Fellow and I head the Nuclear & Space Policy Initiative at the Observer Research Foundation, New Delhi. She is also the Technical Advisor to a new UN Group of Governmental Experts (GGE) on Prevention of Arms Race in Outer Space (PAROS) (July 2018-July 2019). As the senior Asia defence writer for The Diplomat, she writes a weekly column on Asian strategic issues. She joined ORF after a five-year stint at the National Security Council Secretariat (2003-2007), where she was an Assistant Director. Prior to joining the NSCS, she was Research Officer at the Institute of Defence Studies and Analyses, New Delhi. She was also a Visiting Professor at the Graduate Institute of International Politics, National Chung Hsing University, Taiwan in 2012.