As part of the partnership between SpaceWatch.Global and Theresa Hitchens, we have been granted permission to publish selected articles and texts. This is "New Space Debris Rules Stalled By Year-Long Interagency Spat", originally published 24 September 2019 at Breaking Defense.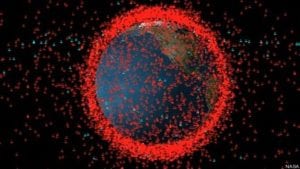 A US interagency working group has spent more than a year trying to hammer out rules governing how long should dead satellites remain in space. Why does this matter? Because over the next few years thousands and thousands of short-lived satellites will be launched in closely-packed mega-constellations, which outside experts widely agree is likely to dangerously increase space junk.
"Industry, and the world, are watching the Trump Administration to see if they take a leadership role on orbital debris," said Brian Weeden, director of program planning at the Secure World Foundation. "The best way to do that is to adopt stricter mitigation guidelines for both government and commercial missions that go beyond what was in place fifteen years ago."
The dispute pits NASA against DoD, the Transportation Department that licenses commercial launch via the Federal Aviation Administration (FAA), and the Commerce Department that licenses commercial remote sensing satellites via the National Oceanic and Atmospheric Administration (NOAA).
Surprise — it's actually DoD leading the charge for a shorter deadline, while NASA wants to stick with the status quo. That requires operators to ensure their spacecraft exit Low Earth Orbit (LEO) within 25 years, according to government sources who spoke to Breaking D under condition of anonymity.
"Of all people, it's the 'space warmongers' doing the most to try to sustain the environment," one DoD official said with a laugh. DoD officials and outside experts explained that the Pentagon's position makes sense, as DoD is one of the largest space operators in the world with assets in nearly every usable orbit.
Suffice it to say that none of the agencies involved would provide official comment; and the number of people directly involved in the working group's deliberations is very small.
"This is all about what risk you are prepared to take," said a government official familiar with DoD's reasoning.
The dispute about disposal deadlines is among several plaguing the interagency working group (IWG) mandated to draft new US government debris mitigation practices by President Donald Trump's June 2018 Space Policy Directive-3 (SPD-3). NASA was given the lead. The other agencies directly involved are: DoD,  the State, Commerce, and Transportation Departments, and the Office of the Director of National Intelligence. The Federal Communications Commission (FCC), responsible for licensing commercial satellite communications operators, has a consulting role.
The FCC put out its own draft version of updated space debris mitigation rules in November 2018, upsetting the other agencies involved in the IWG. But, sources involved say the FCC has been a positive contributor during the IWG meetings. Commerce in April also issued a request for information from industry about what new rules might be needed to improve space traffic management (STM), space situational awareness (SSA) and debris mitigation. The Trump Administration has designated Commerce as the agency responsible for future STM rules, and for taking over from the military the job of providing commercial and foreign operators with SSA data so they can better avoid on-orbit collisions.
SPD-3 recognizes that new debris mitigation rules are required due to the changed space environment. "Rapid international expansion of space operations and greater diversity of missions have rendered the current U.S. Government Orbital Debris Mitigation Standard Practices (ODMSP) inadequate to control the growth of orbital debris. These standard practices should be updated to address current and future space operating environments," it says.
The ODMSP is a short document, only four pages. It's light on prescription of 'do's and don'ts' for operators. Instead, it lays out four broad objectives: controlling debris released during normal operations; minimizing debris created by accidental explosions; ensuring that any US plan for satellite launch and operations is designed to minimize the chance that the spacecraft will collide with either another working satellite or a piece of known debris; and designing spacecraft to be safely disposed post-mission. These standard practices, along with international guidelines, are integrated into US regulations covering both commercial and government satellite operations.
"A year, to disagree on four pages," commented one observer, with a clearly audible eye roll.
SPD-3 also says that the US should take the lead in creating new international debris mitigation standards, as well as in creating a new STM regime suited for the new, more crowded space environment. According to senior US officials, this is preferable to waiting for the international community and various United Nations fora to come to new agreements, which might not be completely to US liking and could take ages. The US currently incorporates into its space regulatory regimes the 2007 Debris Mitigation Guidelines approved by the UN Committee on the Peaceful Uses of Outer Space (COPUOS), and the more technical guidelines developed by the Inter-Agency Debris Coordinating Committee (IADC). But, there is near consensus in the scientific and space world that changes are needed to deal with the skyrocketing number of satellites and the debris expected as a result.
Indeed, as Space News colleague Jeff Foust reported from the annual Advanced Maui Optical and Space Surveillance Technologies (AMOS) conference in Hawaii last week, the latest European Space Agency (ESA) annual Space Environment Report shows that debris continues to proliferate. It also finds that many operators in LEO do not comply with the current 25-year guideline. Francesca Letizia, an engineer at ESA's Space Debris Office, told the conference that only 15 to 25 percent of operators whose satellites would have to be physically moved — because they are above the altitude where atmospheric drag alone would pull them down within 25 years — even try to comply.
But rather than improving current US debris mitigation practices, DoD believes that the IWG draft report crafted by NASA "is a step backward from where we are today," said one insider.
Sources say one of the big problems is that NASA does not want to shift the status quo until new, peer-reviewed scientific research is available about the increased risks of collision posed by mega-constellations — a position that has frustrated other agency participants. "So, tell me, why didn't NASA fund something a year ago?" one source fumed.
"In general, if it's not a NASA analysis, it's not good enough," said another insider.
Ironically, just as the government working group was flailing about last Wednesday, a group of satellite operators issued a call for industry to voluntarily ensure that their dead satellites are removed from orbit within five years — rather than 25 years. The new Space Safety Coalition (SSC) was officially launched last Wednesday at the AMOS conference, and issued a set of some 40 best practices that included that shorter timeline for LEO satellite disposal.
Doug Loverro, former DoD head of Space Policy, said that a five-year life deadline "is a much, much better criteria." He explained that the 25-year rule "had nothing to with in-space risks, only with preventing risk, injury and hazard on the ground. It's a misplaced criteria when dealing with space debris."
"Now is the right time to act," said Walter Scott, chief technology officer at Maxar Technologies. "On one hand, the objective numbers about the probability of collision are still low, but the time to solve the problem is before it is a crisis," he told Breaking D on Friday.
The SSC is a 'coalition of the willing' that includes a number of traditional space operators — Maxar (that recently swallowed Digital Globe), Intelsat, Iridium, Inmarsat and SES among them — as well as some start-up companies with LEO mega-constellations including Planet and One Web. One launch firm, Virgin Orbit, also has signed on.
However, SpaceX, which has just begun deploying the first of its Starlink constellation of 12,000 satellites, has not signed on. SpaceX has come under some criticism for a lack of transparency about its operational plans and activities — an issue experts say was highlighted by the European Space Agency's Sept. 2 unilateral decision to move its Aeolus observation satellite to avoid crashing into a Starlink. As first reported by Jonathan O'Callaghan at Forbes, ESA said that SpaceX did not respond to an email reporting the need for a maneuver and asking for coordination. SpaceX later said the problem was caused by a "bug" in its system that failed to update the operator about ESA's notification of heightened risk; otherwise it would have been happy to have coordinated a maneuver plan.
Among the SSC best practices is urging all operators — especially tiny satellites such as the popular 10cmX10cmX10cm Cubesats — to equip their spacecraft with technologies that allow reliable tracking and identification.
The need for such tracking devices, according to proponents, was highlighted in December 2018 with the launch into LEO of 64 small satellites on a SpaceX Falcon 9, under a ride-share agreement brokered by Spaceflight Industries. Because of the way the launch was configured, the small satellites tumbled from the launcher all at once and then spiraled out toward their planned orbital stations. One critic said it was like "a pinecone dropping all its nuts into the wind at once." This has made it difficult for DoD's space tracking network to figure out which satellite belongs to which operator. (Colleague Loren Grush at The Verge did a nice wrap up of the problems in April.)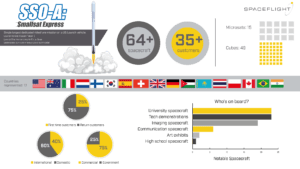 The ability to identify spacecraft ownership is important for the US government so it can register the launches with the United Nations, as required under the 1974 Registration Convention. That treaty makes the "launching state" responsible for registering spacecraft, rather than the state where the operating company is incorporated.
In addition, under the 1971 Liability Convention, the US government technically is liable if a US-launched satellite were to run into another operators satellite, or in the highly unlikely event made it partially intact through its fiery descent into the atmosphere and then caused property damage or harm to a person on the ground. Thus, the specter of a plethora of unidentified and/or uncontrolled satellites is worrying to US regulators, lawyers and policymakers and diplomats.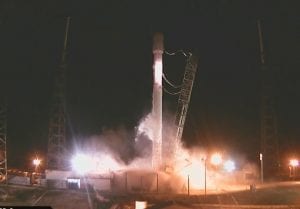 In fact, one expert at space tracking said that some operators have found it difficult, if not impossible, to locate and contact their own satellites launched by the SSO-A SmallSat Express mission — meaning that those satellites were effectively "debris on arrival" in orbit.
T.S. Kelso, senior astrodynamicist at Analytical Graphic Inc.'s Center for Space Standards and Innovation, said that almost a year later, eight satellites launched on the SSO-A mission remain unidentified. "There seems little chance that any of these will ever be identified or be able to be used for their intended purpose," he said.
Scott said Maxar also would like to see all spacecraft be equipped with propulsion units that allow maneuvers if a possible collision is deemed likely. He acknowledged that doing so would come with a bit of additional weight and perhaps cost, but, he said: "so what?" He argued that the penalties are tiny in proportion to the safety benefits. Given the advent of new, lightweight propulsion technologies, "it's an excuse, not a good reason" for not doing so, he said.
The SSC best practice guidelines propose that satellites with an apogee (the highest point in orbit) above the International Space Station's 400km altitude should "be capable of performing timely and effective collision avoidance maneuvers sufficient to reduce the probability of collision per conjunction to less than 0.0001."
But not all operators agree, especially in the Silicon Valley space start-up universe — where there is a willingness to embrace high risks, and what appears to be a concomitant willingness to play fast and loose with regulations. In addition, many small and/or new operators are leery of taking on the additional costs involved with hiring staff trained able to do such maneuvers. Established operators that do have the capabilities to move out of the way, on the other hand, insist that it simply isn't fair for them to bear all the costs of avoiding collisions.
In other words, experts said, operators are placing the onus for responsibility at each other, complicating the government's efforts to figure out new rules. Further, given the Trump Administration's emphasis on industry advocacy and regulatory streamlining, sources say there is a reluctance among regulators to stretch current powers to force industry hands or block launch plans. "No one wants to be the agency to say no," said one official.
In fact, officials say that the FAA was highly concerned about the safety of SSO-A's launch configuration, but felt it did not have the authority  to demand pre-launch changes or to stop the launch altogether. FAA officials, sources say, contacted the 30th Space Wing at Vandenberg AFB in California in hopes that the military could step in, since the Falcon 9 was being launched from Vandenberg. The 30th Space Wing, however, wasn't convinced it was their job either, especially given a dearth of personnel resources capable of scrutinizing the complicated launch plans. So, the launch went forward.
One US government source mused that perhaps the IWG's impasse might have a silver lining, in that industry input — including from the new SSC — could now be reviewed. The use of industry best practices is in line with Trump Administration philosophy, and industry technical expertise could help short-staffed government agencies evaluate various solutions to technical problems. "It might not be the end of the world," he said.
The next step is for the National Space Council, led by Vice President Mike Pence, to review the draft put together by NASA as lead agency with all the opposing positions, and decide whether to resolve the dispute at the working level or to kick it upstairs to the agency deputy secretaries. A spokesman for the council did not respond to a request for comment about next steps.
The original can be find here – https://breakingdefense.com/2019/09/new-space-debris-rules-stalled-by-year-long-interagency-spat/ Rights reserved – this publication is reproduced with permission from Theresa Hitchens.