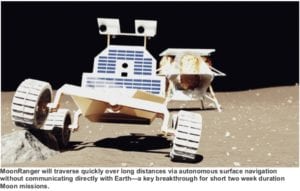 Astrobotic has been awarded a $5.6 Million contract by NASA's Lunar Surface and Instrumentation and Technology Payload (LSITP) programme to cooperate with Carnegie Mellon University on development and delivery of a groundbreaking rover which enables a new paradigm of exploration autonomy.
MoonRanger, the lunar rover, will establish transformational high-speed, long-range, communication-denied autonomous lunar exploration with high fidelity 3D maps also in such areas like polar regions and lunar pits. The level of exploration autonomy the rover enables is essential for exploring lunar pits, characterizing ice, investigating magnetic swirls, and deploying future mobile instruments on the lunar surface. Technology pioneered by Professor Red Whittaker at Carnegie Mellon University offers outstanding mobility at a lightweight (13kg) and will become a test platform for autonomy that will usher in a new era of operability in space.
MoonRanger offers a means to accomplish far-ranging science of significance, and will exhibit an enabling capability on missions to the Moon for NASA and the commercial sector. The autonomy techniques demonstrated by MoonRanger will enable new kinds exploration missions that will ultimately herald in a new era on the Moon," says Whittaker.
"This latest NASA award to develop MoonRanger for a mission to the Moon is another example of how Astrobotic is the world leader in lunar logistics. Our lander and rover capabilities are designed to deliver our customers to the Moon and allow them to carry out meaningful, low-cost activities for science, exploration and commerce," says John Thornton, CEO of Astrobotic.
Astrobotic thus extends their mobility as a service to customers across the world by MoonRanger becoming an additional offering to Polaris and CubeRover. The awarded contract could fly the MoonRanger to the Moon as soon as in 2021 or 2022.