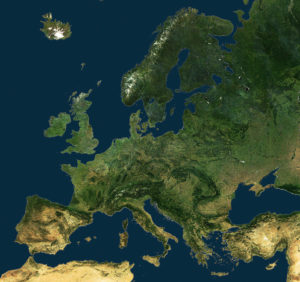 In the presence of Frédérique Vidal, Minister for Higher Education, Research and Innovation, the 26th French-Swiss academic, scientific and technological cooperation forum took place on the campus of the Ecole Polytechnique Fédérale (EPFL) in Lausanne, Switzerland, on 1 July 2019.
Space cooperation between France and Switzerland was on the agenda at the gathering. Consolidated in 2012 through an agreement covering launchers and satellites, this cooperation was extended in 2013 to support production of the fairing for Ariane launchers and development of the IASI-NG instrument.
After the meeting between Frédérique Vidal and Martina Hirayama, Switzerland's Secretary of State for Training, Research and Innovation, CNES President Jean-Yves Le Gall and Renato Krpoun, Head of the Swiss Space Office (SSO), signed a letter of intent to step up cooperation between their respective organizations in technology innovation, science and exploration missions and future launchers.
In the morning, at the initiative of SSO, Jean-Yves Le Gall visited the facility of APCO Technologies in Aigle and its new bay devoted to the Ariane 6 launcher. APCO Technologies is a leading European space contractor already present at the Guiana Space Centre.
At the end of the day's proceedings, Jean-Yves Le Gall commented: "Space cooperation between France and Switzerland is gaining strength every year. The letter of intent signed by CNES and SSO today marks a new step in the joint efforts of our two nations. The domains covered are among the major challenges facing spacefaring Europe and CNES attaches a great deal of importance to its effective future implementation."