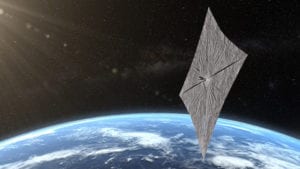 LightSail-2, a crowd-funded spacecraft that aims to be the first propelled only by sunlight, was launched successfully from Kennedy Space Center on 25 June on board a SpaceX Falcon Heavy rocket as part of the U.S. Air Force's STP-2 mission. The spacecraft, developed by the Planetary Society, experienced a slight delay in liftoff of three hours as further ground system checks were carried out.
LightSail-2 was encapsulated in the Prox-1 spacecraft where it will stay until its scheduled deployment on July 2. The aim of the mission is to raise the orbit of LightSail 2 and to therefore demonstrate that the use of a solar sail is a viable propulsion method for cubesats.
The Planetary Society is a great advocate of solar sails and launched the world's first spacecraft with a solar sail, Cosmos 1. Unfortunately, due to a launch failure, this spacecraft didn't make it to orbit. This was followed in 2015 by LightSail-1 which completed its test flight successfully.
When LightSail-2 is released from Prox-1 on 2 July, it will spend at least one week undergoing health and status checks, deploying its solar panels, and deploying its solar sails. The exact schedule depends on the frequency of ground station passes after launch.